Coleen Garcia took to social media to recount how her voting experience went down on election day, May 9.
The actress revealed that she stayed at her polling place "way after voting hours" just to be able to cast her vote herself.
"Our vmc (vote counting machine) was broken the whole day. I came early in the morning, left and came back right after lunch, only to wait until way after voting hours," she said.
Coleen shared that they did not receive any updates on the matter until night time.
"I felt so bad for the officials who were taking everything in from the many people who had to face them, bec it was unfair for them, too.
"I also had it better than the maaaany people who had been waiting from 6AM! Many of whom were senior citizens!" she wrote on an Instagram story.
While some left their ballots behind for the poll watchers and staff to feed to the machine, Coleen took the advice of many citizens to stay and insert her ballot herself to protect her vote.
She explained: "A lot of people left their ballots behind & entrusted them to the officials. We were encouraged not to, so I stayed as long as I could."
The mother of one stressed she waited until her son, who was still breastfed, needed her.
"Eventually, I left once it was settled that there would be many volunteers and watchers from every camp to watch the insertion of ballots that were left behind.  
"It's still not ideal, though. I can't explain the feeling but it was so heavy. I left with my head hanging low, feeling not only frustrated, but also defeated," she narrated the experience.
On top of all of this, the 29-year-old was grieving the death of her pet cat that passed on the same day.
Even with her experiences from election day, Coleen admitted she felt pride as she waited along with the other citizens who rose up to the occasion.
She ended her story, encouraging the public to continue to fight for the country.
"It may not take one day, one year, one election, or even one presidency… but I urge you all to continue to fight for us."
Coleen shared her personal voting experience on a series of Instagram stories on Tuesday.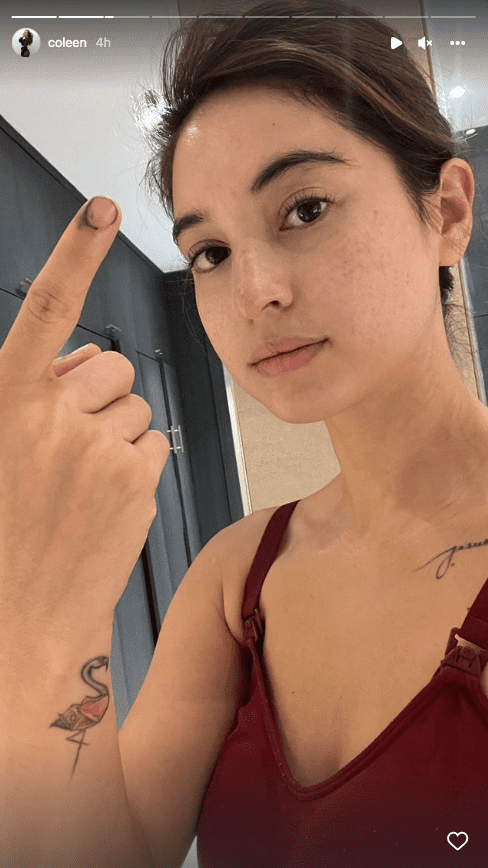 RELATED: Nadine Lustre, Coleen Garcia remind netizens to be vigilant on election day