P-pop supergroup SB19 shone as the opening act for JVKE's What Tour Feels Like concert in Boston, even giving a Pinoy flavor to the American singer-songwriter's hit song Golden Hour.
JVKE held his final concert at the House of Blues Boston, U.S. on Saturday, Sept. 2 (US Time).
The Mahalima teased fans with photos posted on X (formerly Twitter) a few hours before they hopped on the stage to perform as the opening act.
The group gave powerful performances of their songs Gento, I Want You, and Crimzone.
SB19 also joined JVKE onstage for a live performance of the latter's hit song Golden Hour with a remix where the P-pop band put a local spin on the song by adding Filipino verses after its chorus.
In clips captured during the show, confetti shaped like blue butterflies poured down the stage as they sang the chorus making it more of a magical moment for A'Tins (SB19 fans) who appreciated the effort to include a touch of SB19's symbolic representation.
"What an honor sharing the stage with JVKE for his epic 'What Tour Feels Like' finale at House of Blues Boston! Thank you all for making it an unforgettable night! 🦋🎶," the band wrote on X post after concluding the show.
"JVKEXSB19" and "Golden Hour" are currently listed among the top trending topics on X, as of writing.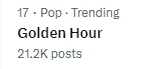 SB19 is currently in the U.S. for various promotional activities. They recently concluded the North American leg of their "Pagtatag" world tour this August.