It was thrice the fun as three Kpop acts performed before their Filipino fans at the Good Friends in Manila concert on October 5 at the Smart Araneta Coliseum in Cubao.
Filipino fan clubs HA:NUELs, WIN:Ds, Wannables and Merries unite for the one-night event to support and see their respective idols on the Philippine stage.
Ha Sungwoon
Formerly of boy groups Hotshot and Wanna One, Ha Sungwoon opened the show with a melodious performance of "Bird." It's the title track from his debut extended plays (EP) "My Moment," released in February 2019.
The singer quickly followed his upbeat song "Tell Me I Love You" before he had a short break and greeted his fans.
The Kpop idol said he felt nervous as it is his first time performing in Manila as a solo artist, but nevertheless, thankful for HA:NUELs' overwhelming support.
When asked about the place the he wanted to visit in the country, Sungwoon said he wishes to go to Tagaytay.
The singer also recounted his recent vacation in Cebu where he went diving with other Kpop artists, namely EXO's Kai, SHINee's Taemin, VIXX's Ravi and Hotshot's Timoteo.
Sungwoon added more tracks from his latest album "BXXX" including "Riding," "Blue Maze," "Blue" and "What Are You Doing Today," which radiated more of his excellent singing and dancing abilities.
Kim Jaehwan
Next to hit the stage was former Wanna One main vocalist Kim Jaehwan. Just like Ha Sungwoon, it's also his first time to perform solo in the country. Both first went to Manila in October 2017 and September 2018 as members of the now-disbanded boy band Wanna One.
Jaehwan did not disappoint fans with his vocals as he started off his set with debut song "Begin Again" from his mini-album "Another," which marked his solo career.
The South Korean singer continued to sing his heart out with songs "Blow Me," "Designer" and "Black Sky," an original soundtrack from the TV series "Chief of Staff."
Fans got a little "cray-cray" when Jaehwan went extra sexy when he sang and danced to his cover of Demi Lovato's "Sorry Not Sorry," and his all-out performance of "Neighbors Know My Name" by Trey Songz.
Jaehwan thanked his fans for the loud cheers and hopes they keep supporting him in his career.
Momoland
Last up on stage was the awaited and Pinoy favorite, Kpop girl group Momoland.
The Merries, as their fans are called, were treated to a fun-filled night, with the girl group performing songs that captivated Filipinos hearts.
Members Nancy, Jooe, Ahin, Hyebin, Jane and Nayun oozed with their charm and flair as they headlined the concert with the following songs: "Welcome to Momoland," "Wonderful Love," "Falling U," "Bingo Game," "Holiday" and "Uh Gi Yeo Cha."
Merries cannot hold their excitement for Momoland to perform their trendy songs as a fan can be heard saying, "Ayan na!" when the girl group continued on with their latest hit single "I'm So Hot."
The crowd danced and sing along with their idols as Momoland's breakthrough songs "Baam!" and "Bboom Bboom" rocked the Big Dome.
The group capped off the night with their warm rendition of Yeng Constantino's "Salamat".
In an interview with The STAR, the group says they always have the best time when they are here in the country.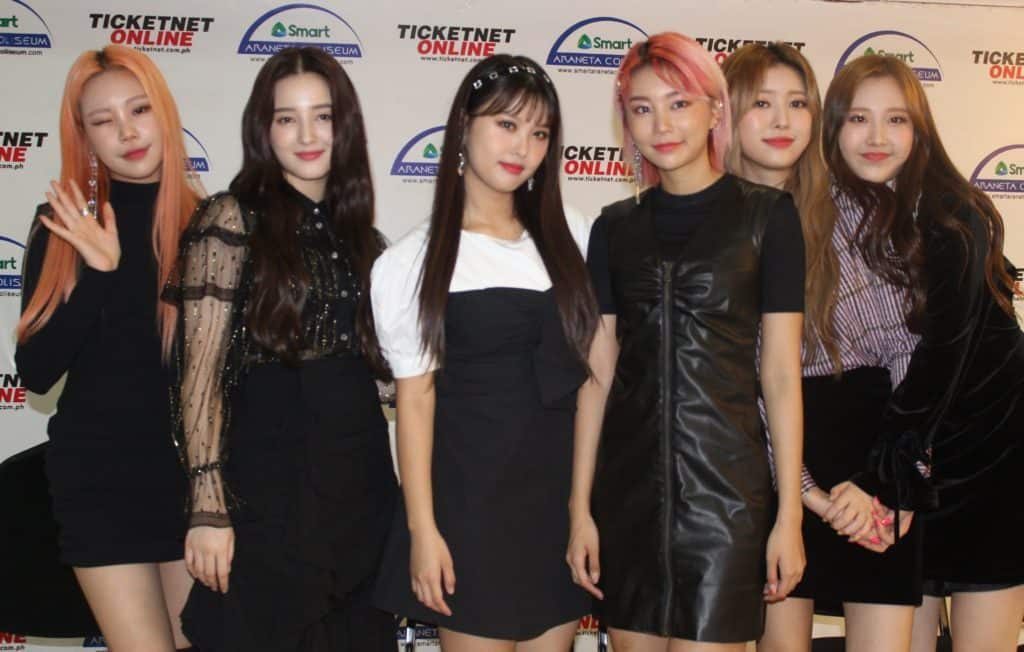 As a "thank you" to their Filipino fans, the girl group's earnings from the concert will be donated to less fortunate children from two barangays in Antipolo City as earlier announced by their management.
Missing members Taeha, Daisy, and Yeonwoo weren't able to perform due to health and personal reasons.