Ellen Adarna and Derek Ramsay responded to netizens who criticized their "relationship" after both posted photos of them together on their respective Instagram accounts.  
On Wednesday, the actress shared a collage of photos of her and Derek all cute and cuddly.
A netizen left a comment under her post, saying that she is a public figure who is not a good influence to the youth.
Ellen immediately noticed the comment and asked that they should be focusing on themselves instead.
"Yet you follow me, judge me and allow your mind to be exposed to 'our' influence. Who's choice is that now? Shouldn't you be protecting yourself and your peace," she said.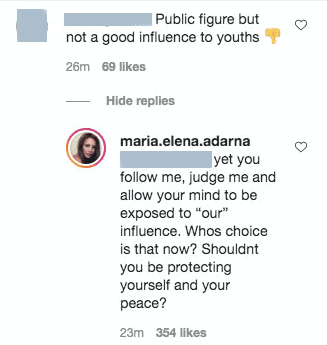 On the same day Ellen posted their photo together, Derek shared a photo of them riding a golf cart.
"Thank you," he wrote.
One netizen called Derek womanizer and said other obscene words about the rumored couple.
"I hope you find joy with the words you have expressed to me and Ellen," he calmly told the netizen.
When Ellen posted a comment on his photo, he reminded other netizens, "If you wanna be negative towards me, that's OK. But don't be to others who are replying to your negativity."
The two have been sparking rumors of a possible romance after going on trips together and spending Valentine's day together.