Apl.de.ap is back in Manila just in time for the much-awaited 2019 Southeast Asian Games Opening Ceremony.
The Filipino-American rapper, born November 28, 1974, earlier celebrated his birthday in New York, Friday, during the Macy's Thanksgiving Day parade where he performed with other Black Eyed Peas members will.i.am and Taboo.
Apl also plans to continue to his birthday celebration in Manila with his involvement in the biennial sports gathering. He was one of the performers at the star-studded SEA Games Opening Ceremony held at the Philippine Arena in Bulacan on Saturday.
"MNL -> JFK is 22 hours of airport goodness and I'm about to go back! All this for about a minute of TV time," he shared in an Instagram post.
"My birthday fell on Thanksgiving this year, which had me celebrating it twice in New York and Manila for two different performances! Macy's Day and Opening Ceremony."
"Happy Thanksgiving to all my followers and thank you for the birthday wishes! I hope you're with your loved one's now."
His co-member Taboo greeted him a happy birthday and wished for a safe trip in Boracay.
Meanwhile, will.i.am left an inspiring, sweet message for his "best friend for life", recalling back to a time when Apl used to cry when he misses home and his family.
"I remember when we were 14 after only being in America for 1 year and you would cry saying you miss your country and family at night when I would sleep over your house," will.i.am said.
"I remember saying WITH CONFIDENCE that 'we would make it in life and you would go back to the Philippines'… WE MADE in life and returned to your country 12 years later a hero…
"Maybe some believed a little… maybe some had hope…BUT YOU BELIEVED ALL THE WAY… I think it's because (you and I had nothing lose)," he wrote.
Will.i.am also said he's the luckiest guy on in the world to have the world's best and greatest friend, and the "world's greatest best friend story on earth".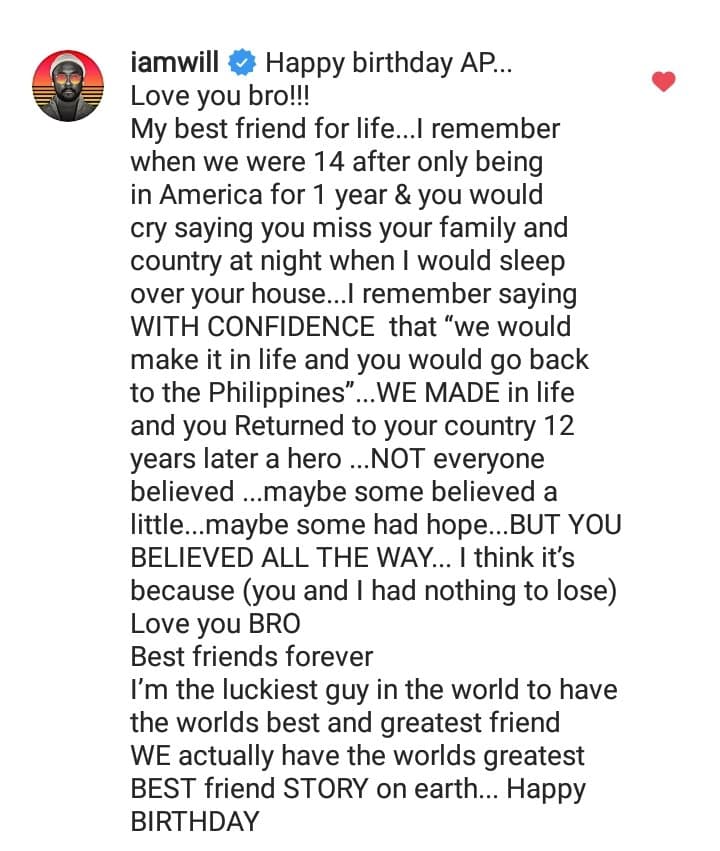 A few weeks before the ceremony, the musician had already been promoting and sharing his excitement via Instagram on being a part of the big event that his country is hosting.
Apl.de.ap will be joined by the rest of the Black Eyed Peas for the closing ceremonies of the 2019 SEA Games at New Clark City in Tarlac on December 11.