Janine Gutierrez had the Twitterverse laughing for delivering a "hugot" line after being left behind by her driver.
The actress-model shared a strong reminder on the social media platform: "BABALA: Lahat talaga nang-iiwan." 
She went on to tell the story of how her driver left her without saying a word.
"I went to my car to put my phone inside & get my wallet. Closed the door and walked to the atm across the street. Pagbalik ko wala na kotse ko, iniwan na ko."
Janine added that her driver has driven all the way from Makati to Mandaluyong without noticing that she was no longer in the car.
"Akala pala ni kuya nakasakay na ko. Umabot na po siyang Mandaluyong galing Makati ano po," she added.
The Kapuso actress said that she had to call up her father to tell him about the hilarious incident and to inform the driver that she wasn't in the car with him.
"Naki-text ako kay manong, hindi ko memorize num ni kuya kaya si Papa tinext ko. After maloka ni papa at natatawa, tinawagan niya si Kuya."
Here's how the driver's convo with Janine's dad went:
Papa: "Nasaan si Janine?"
Kuya JR: "Andito po."
Papa: "Wala diyan si Janine!"
Kuya JR:"Hala wala nga po!!! Nasaan po siya???"
The netizens had a laugh with Janine's funny encounter and they, too, shared their own experiences, hugot-style.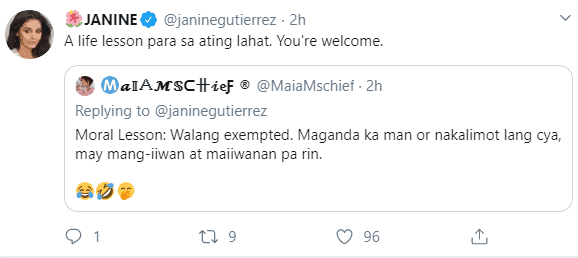 Janine is set to star with Paulo Avelino in the romantic film Ngayon Kaya under T-REX Entertainment that will soon hit cinemas this year.