Mariel Rodriguez-Padilla couldn't help but react to the criticism against Manila Bay's "white sand beach" as part of the government's multi-million–peso beautification project on the tourist attraction.
"Nung puro basura walang nagrereklamo, ngayon na pinaganda… Can you believe it? Ngayon sila nag-reklamo? Ang hindi ko maintindihan is lagi natin hinahanap kung saan napunta yung tax na binabayad natin. Ayan oh. At least yan nakikita natin di ba. Tapos ma-complain pa rin?" the TV host said.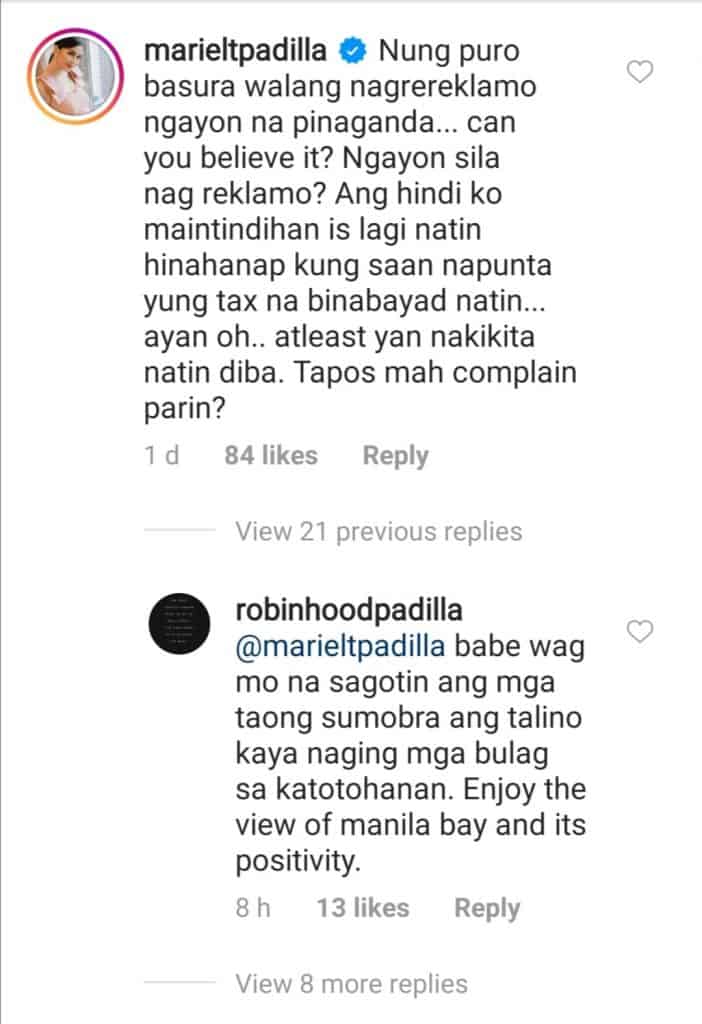 Mariel made the comment on the Instagram post of actor husband Robin Padilla, who shared a news item on the 2008 landmark decision by the Supreme Court ordering concerned agencies to rehabilitate Manila Bay.
"On December 18, 2008, the Supreme Court in a landmark decision issued a mandamus ordering 13 government agencies 'to clean up, rehabilitate and preserve Manila Bay, and restore and maintain its waters to SB level [Class B sea waters per Water Classification Tables under DENR Administrative Order 34 (1990)] to make them fit for swimming, skin-diving and other forms of contact recreation'," a part of his post read.
While Mariel's comment drew support, it also elicited a few negative comments that prompted Robin to tell his wife to ignore them and instead "enjoy the view of Manila Bay and its positivity."
Robin also wrote that the rehab of Manila Bay was previously dismissed as a "lost cause" and an "impossible dream".
The action star, who's a vocal supporter of President Duterte, praised the government's efforts to improve this tourism gem despite the criticism. The project has courted controversy for using crushed dolomite boulders from Cebu to "enhance" Manila Bay's shoreline.
"The efficiency of the present government is admirable! Ibigay natin sa gobyerno ang tamang pagkilala sa accomplishment na ito dahil may COVID-19 man o wala, bilang isang taxpayer, pipiliin ko na ang white sand kesa sa basura. Yun dolomite maaaring pagtalunan pero yun basura 1 million percent masama sa Inang Kalikasan, sa ating kalusugan at sa lahat ng bagay."
He believes the project is an opportunity for Filipinos who cannot afford to travel to experience Boracay in Manila Bay.
"Wag naman nating ipagdamot sa ating mga kababayan na walang kakayahan makaranas ng Boracay sa Manila Bay," Robin said.
"Free relaxation and family bonding ay mental, emotional and physical (therapy). Every Filipino deserves a swim, a sunrise and sunset by the beach," he added.
Over the weekend, the controversial "white sand beach" was temporarily opened to the public in celebration of the International Coastal Cleanup Day.
However, the large crowd that showed up to preview the improvements on Manila Bay became a cause of concern, especially with the lack of social distancing amid the still ongoing pandemic.
RELATED: