The Department of Health released a statement on Monday addressing the public to avoid events and gatherings such as concerts as a safety measure against the 2019 novel coronavirus acute respiratory disease (2019-nCoV ARD).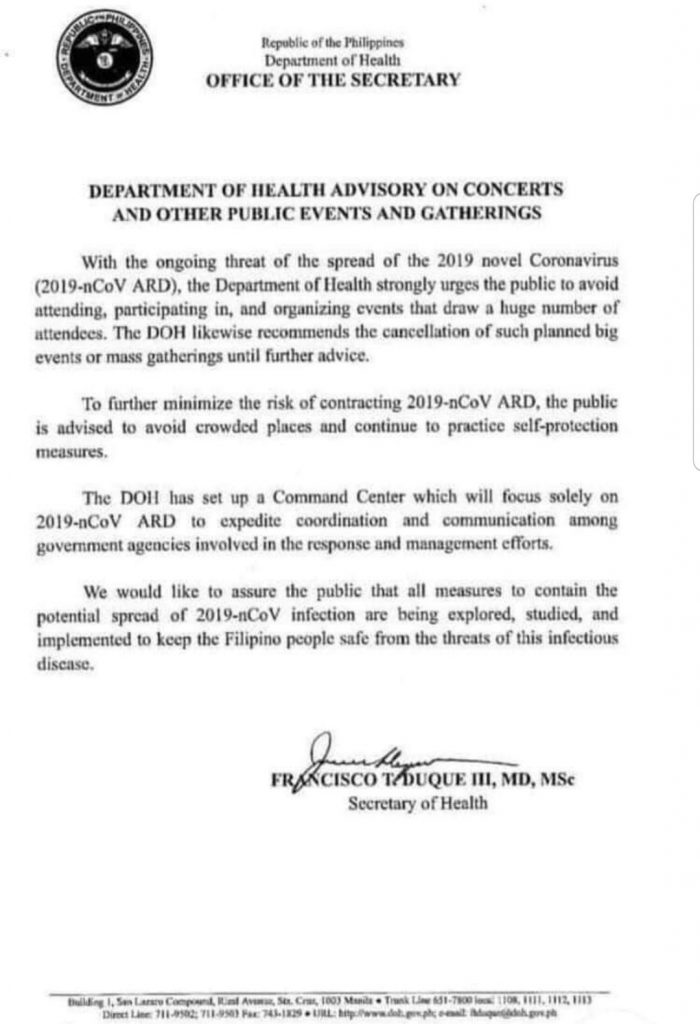 "With the ongoing threat of the spread of the 109 novel Coronavirus (2019-nCoV ARD), the Department of Health strongly urges the public to avoid attending, participating in, and organizing events that draw a huge number of attendees. The DOH likewise recommends the cancellation of such planned big events or mass gatherings until further advice," they wrote. 
They also advised the public to avoid crowded places and continue their self-protection measures. 
"We would like to assure the public that all measures to contain the potential spread of 2019-nCoV infection are being explored, studied, and implemented to keep the Filipino people safe from the threats of this infectious disease."
Prior to the DOH's statement, several events featuring foreign personalities have already been cancelled due to the outbreak. 
K-pop group EXO cancelled its fan meet scheduled on February 22. The Philippine counterpart of Korean cosmetic brand Nature Republic announced that it would be for the "better good of the majority" (READ: Kpop group EXO cancels fan meet in Phl due to nCoV.)
To All The Boys stars Noah Centineo and Lana Condor will no longer meet their fans for their February meet and greet. A Netflix spokesperson said it was to ensure the health and well-being of those attending (READ: JUST IN: Phl events of To All The Boys stars Noah Centineo and Lana Condor cancelled.)
The disease originated in Wuhan, China. As of writing, there are three confirmed cases of nCoV in the Philippines with the first one, a 38-year-old woman, discharged from the hospital last Saturday after testing negative for the virus twice. Her 44-year-old male companion became the first 2019-nCoV death outside China. The third case was earlier discharged from a hospital and already left the country on January 31.
The World Health Organization has advised the public to observe safety precaution to reduce transmission of the disease.