It seems that international supermodel Tyra Banks has approved of Nadine Lustre's "modeling skills". 
On February 3, a fan posted on Twitter a clip of Nadine's photoshoot for a magazine cover in Rio de Janeiro, Brazil.
The fan tweeted "MISS NADINE LUSTRE DID THAT".
In the video, the 26-year-old actress-singer could be seen balancing herself on an unstable platform while doing poses for the camera. 
The behind-the-scenes clip has so far garnered over one million views and over 120,000 likes.
One of the shots became the cover of MEGA Magazine's February issue. 
Another fan retweeted the video and tagged supermodel Tyra Banks, saying, "Wow!!! Fierce pang America's Next Top Model.
America's Next Top Model is a reality TV series and interactive competition hosted by Tyra Banks, in which aspiring models compete for the title of America's Next Top Model and begin their career in the modeling industry.
Fans of Nadine were amused to find out that Tyra did "like" the tweet.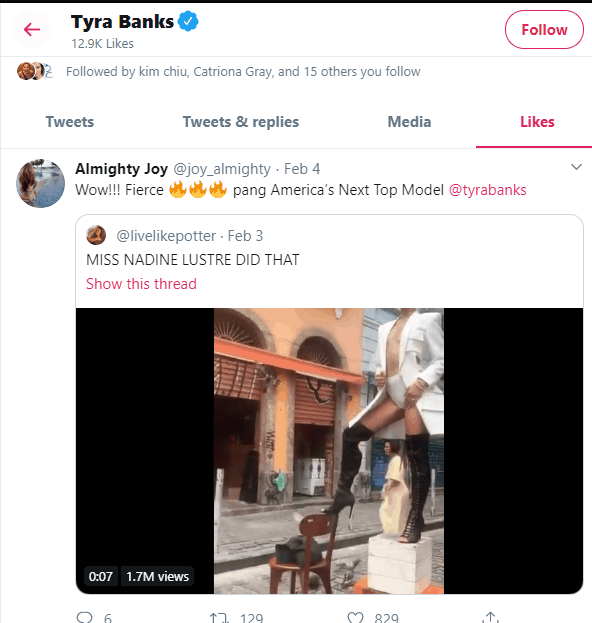 They believe that Nadine really has that "next top model" feels and has a chance in the modeling world.
This wasn't the first time that a Filipina actress caught the attention of the supermodel. 
Back in 2018, Tyra had also approved of Maymay Entrata's runway stint and her look during the ABS-CBN Ball in 2019.
Tyra also praised Catriona Gray for her iconic slow-motion spin and overall performance when the latter joined (and eventually won) Miss Universe in 2018.