Following the not-so-obvious announcement of his engagement to Sarah Geronimo, Matteo Guidicelli on Friday posted a photo of his first-ever meeting with his fiancée.
Seen on Matteo's Instagram stories, the throwback photo was placed side by side with the sweethearts' latest picture together, first released on Thursday, which showed the actor with Sarah wearing a huge diamond ring.
The photo collage best sums up their journey as a couple now headed for the altar.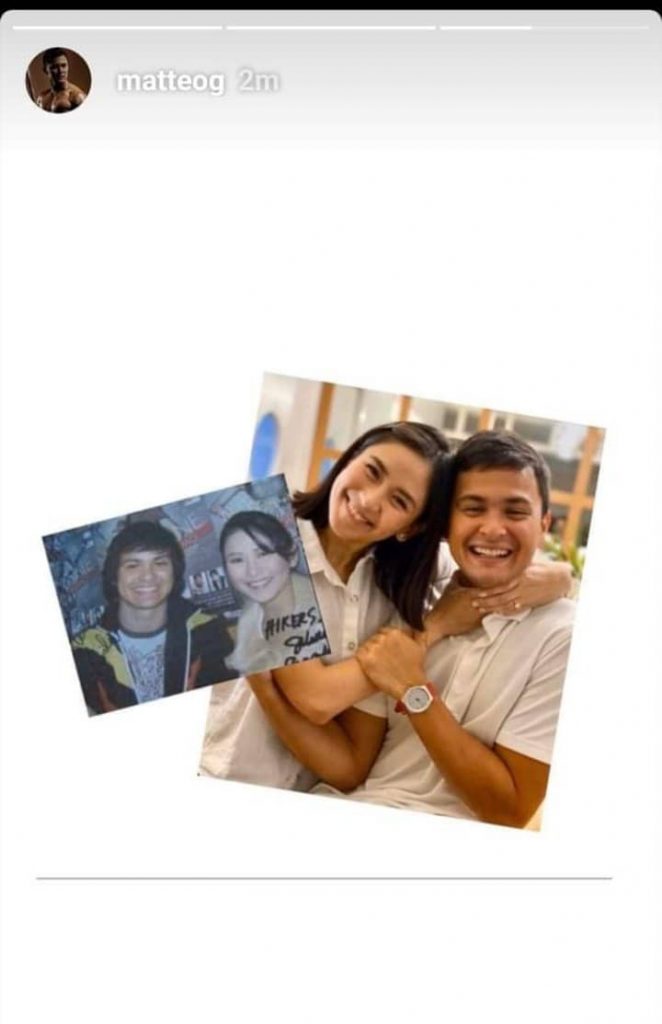 Matteo and Sarah have successfully kept their relationship low-profile that nobody ever found out that they have already been engaged for about a year now.
That's according to Matteo's younger brother Paolo in a now-deleted Instagram story, wherein he congratulated his Kuya Matteo and soon-to-be sister-in-law Sarah.
"Congrats. They were engaged for about a year now. It was just a secret," Paolo said.
Here's the receipt from netizens who were quick to take a screenshot of it.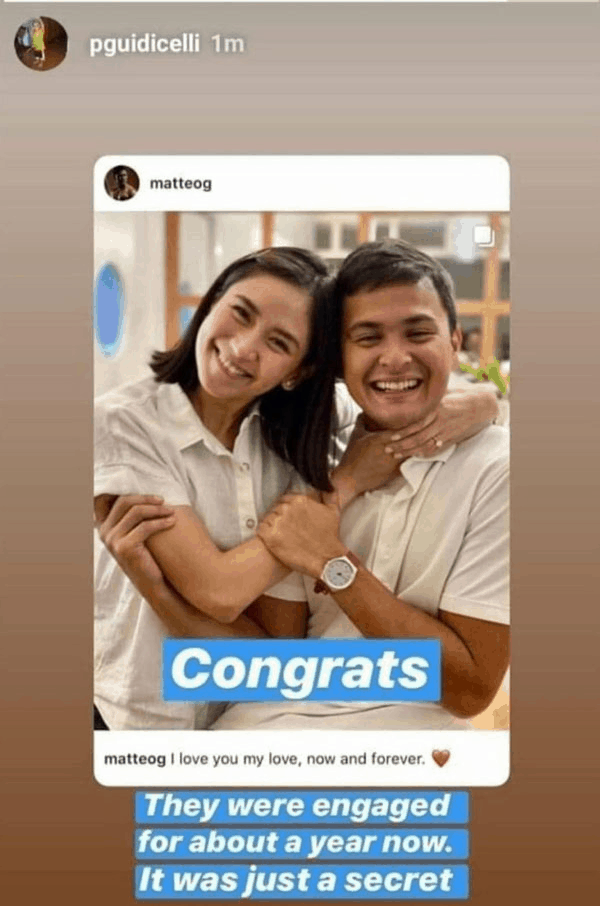 Matteo's sister Giorgia Guidicelli also took to Instagram to welcome the engagement news.
"The year of love. Team Guidicelli ready to expand," wrote Giorgia, who's set to marry this year with Sarah as maid-of-honor.
Meanwhile, a Twitter user found out that the photo posted by Paolo on Thursday was the same photo shared by Matteo last November 7, 2018, exactly a year ago which he captioned "Happy place".
How the AshMatt love story began
In a report by ABS-CBN in 2016, Matteo revealed in the September 2016 issue of StarStudio Magazine how he and Sarah got together.
Matteo admitted that he always had a huge crush on Sarah even before they became a couple.
The athlete-actor said he approached and asked his good friend Billy Crawford to be introduced to Sarah. During that time, Billy and Sarah had a show together in Cebu, Matteo's hometown.
Matteo also went to Sarah's show in Batangas where he lined up with the Popsters (Sarah's fans) during a meet and greet and took a picture with the singer-actress.
Guidicelli said it was after the US concert tour that he took the chance to court her: "After America, talagang sabi ko I like this girl. I want to get her attention. Kinapalan ko na mukha ko, ginawa ko na lahat."
The couple have been together for six years now. Speculations are rife that Matteo proposed to Sarah last September 2018, during their secret vacation in Italy, where his roots on his father's side are.
Well done Matteo! You can still call Sarah "Sarah G" — as in future Mrs. Guidicelli.