Maggie Wilson was given a 72-hour temporary restraining order (TRO) against her estranged husband Victor Consunji by Taguig Regional Trial Court on Wednesday. 
The court accepted Wilson's motion after Consunji's representatives attempted to padlock the rental home of the former beauty queen and her son Connor, according to the documents shared by Wilson in her Instagram story.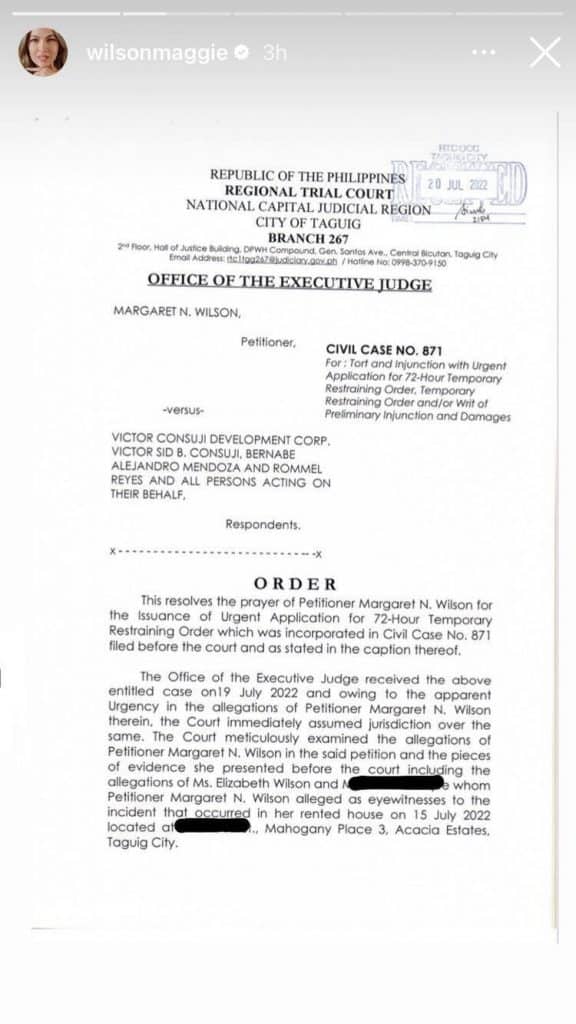 On Wednesday, July 20, the former beauty queen took to Instagram to share the court's decision that she received regarding the issue.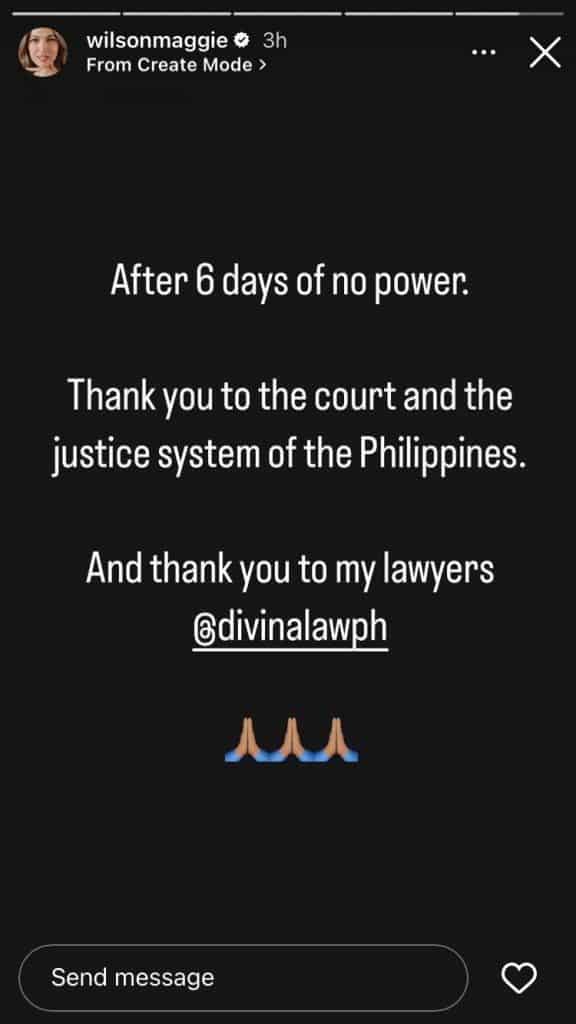 "After 6 days of no power. Thank you to the court and the justice system of the Philippines," Wilson said in her Instagram story.
According to the court, Wilson had an "existing lease contract" on the DMCI property, thus, Consunji had no jurisdiction to evict her.
"The attempt of defendants in padlocking the property was unsuccessful after petitioner Margaret N. Wilson reminded them about the existing lease contract over the property," the court stated.
The court added, "The victory of petitioner Margaret N. Wilson, however, was short lived when defendants were able to successfully cut-off the electricity in the property several hours after leaving on the same date."
"The attempt of the defendants to forcibly evict petitioner Margaret N. Wilson from the rented property does not sit well with the court as there are existing remedies that are available to the defendants under the law," the court further said.
The court reiterated that since there is a leasing agreement, it should be respected.
"Since it cannot be denied that a valid lease contract is existing and subsisting between the petitioner and the defendants, the Lease Contract should be respected by the parties wherein the lessor is obliged to maintain the lessee in the peaceful and adequate enjoyment of the leased premises for the entire duration of the contract," the court further stated. 
The court also ruled that Consunji and his representatives are not permitted to obstruct the property's restoration of electricity.
However, Wilson has been advised to get a P500,000 bond for any damages the defendants may incur.
On July 15, Wilson resorted to social media to vent her frustration, claiming that five individuals from Consunji's real estate company broke into her home without her permission.
Wilson asserted that while she was on a business trip, her sister, five-year-old cousin and her household staff who were at home during the occurrence were "subject to harassment and intimidation."
Before the former beauty queen filed for divorce in September 2021, the two had been married for 11 years.
Consunji has yet to issue a statement on the recent developments.
RELATED: Maggie Wilson cries foul after house gets 'illegally' entered, faces adultery lawsuit from estranged husband