Maggie Wilson took to social media to share how "shameful" the prices of COVID-19 antigen kits are in the country, adding that it is "disgraceful" the government does not offer these for free.
The former beauty queen said on her Instagram stories that she was planning on buying a box of COVID-19 antigen tests kits for a UK-based friend's family in the Philippines when she found out that prices have already doubled.
"It's disgraceful how the people who are selling them are taking advantage of the situation and upping the prices due to demand. Greed! We have no price regulations in place.
"It's even more disgraceful that our government doesn't offer them for free," she wrote.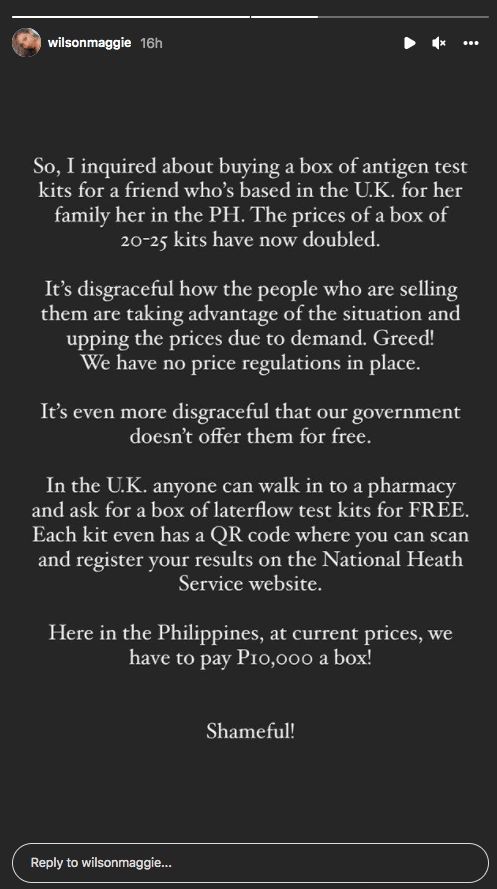 Maggie then added that in the UK, rapid lateral flow tests are available in pharmacies for free, with a QR code to register citizens' results on the National Health Service website.
"Here in the Philippines, at current prices, we have to pay P10,000 a box! Shameful," she said.
Just last week, Sen. Risa Hontiveros has called on the pandemic task force to make COVID-19 testing free and accessible as the country sees an increase in infections.
It is the RT-PCR tests of persons admitted in hospitals that are covered by state-run Philippine Health Insurance Corp. (PhilHealth).
Meanwhile, different local government units (LGUs) in Metro Manila such as Manila, Muntinlupa, Las Piñas, Parañaque, Caloocan, Mandaluyong and Taguig have already set up free COVID-19 tests for their citizens. A Philstar.com article listed sites where to get tested for COVID-19.