Andrea Torres has a special place in Kylie Padilla's heart for sure. The latter couldn't help but pen an appreciation post for her first leading lady in a project.
On social media, Kylie shared her conversation with her love interest in their upcoming eight-episode series BetCin.
"I learned so much from this woman. I'm happy you were my first leading lady. Cheers to more projects with you! Another strong beautiful lady I'm blessed to have worked with," she wrote in the caption.
Meanwhile, Andrea expressed how there was instant chemistry between them.
"You're precious. Di ako magsasawang sabihin sayong I love you, I'm always here for you, I miss you and I'm proud of you!" she responded.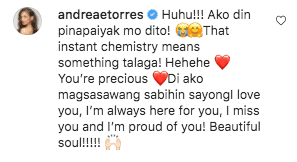 The series producedby Rein Entertainment features an online couple on the verge of breaking up. As their relationship goes through the road to ruin, Beth and Cindy receive an untimely message indicating that they have been included in a social media game with 10 million pesos at stake.
BetCin will premiere on WeTV this October 15.
READ: LOOK: Kylie Padilla, Andrea Torres get intimate in BetCin teaser