Bela Padilla recently denied speculation that she tied the knot with her foreign boyfriend Norman Bay.   
Months after being apart, the couple finally reunited with a getaway to Italy.
In an Instagram post, Bella was spotted wearing a white dress with a band on her left ring finger as she explored the streets of Florence.  
An eagle-eyed netizen pointed out the ring on her finger and shared how they think the actress has already tied the knot with her Swiss-Italian boyfriend.
"Feeling ko kinasal kana jan yung singsing napansin ko," the netizen wrote.
Bella simply replied that the accessory was her own.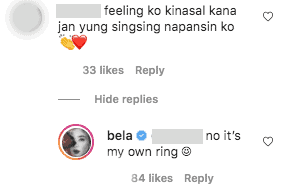 In a past Instagram post, Bela shared that she recently travelled to Tuscany.
"Today, I woke up in a house facing vineyards and hiked without meaning to, to get to this natural pool," she wrote.
The 30-year-old revealed that she's in a relationship back in October 2020. She went on a trip to Capadoccia, Turkey and dubbed Norman as "the one I met in St. Gallen".
READ: Bela Padilla reveals mystery guy from romantic trip to Turkey