ABS-CBN's Star Magic has issued a statement that warned legal action against individuals bashing and threatening their artists' children on social media.
On Wednesday, the Kapamilya talent management arm said the online attacks directed at young children are not only "irresponsible and unnecessary, but they are also downright heartless and cruel."
"We stand with our artists in calling out these people who may be liable for violating the law against child abuse (Republic Act 7610) and existing libel laws.
"We will not hesitate in seeking legal action to make sure these individuals, whose posts have already caused undue hurt and trauma, will learn their lesson," the statement read.
Star Magic's statement came after celebrity parents Carlo Aquino, Janella Salvador and Markus Paterson called out netizens who were sending threats and bashing their children online.
Carlo recently revealed that his seven-month-old daughter with Trina Candaza, baby Enola Mithi received threats on social media.
In response to Star Magic's statement, the protective father wrote: "Bakit pati mga sanggol o batang walang kalaban laban? Wala ba kayong mga anak? Pamangkin? Huwag sana ganun kawalang puso. Ingatan natin ang mundong kakalakihan ng mga batang ito. Huwag nating hayaang maging marahas. Hindi lang para sa anak ng artista, pero para sa lahat."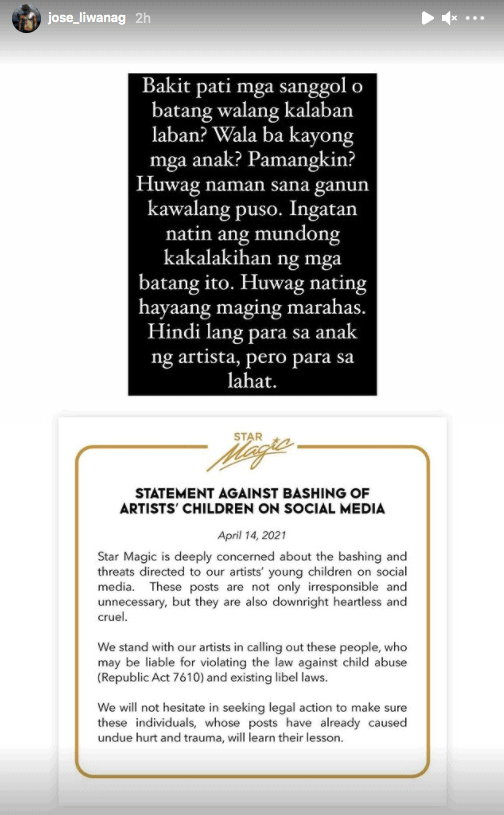 Meanwhile, newbie parents Janella and Markus were just as protective when they called out netizens criticizing son Jude's appearance.
"Your humor must be really f**ked up to make fun of a baby. I can take all the bashing in the world directed at me with grace, but direct it at my innocent son and you'll definitely hear from me," Janella wrote in a tweet, along with a screenshot of a netizen's Facebook profile.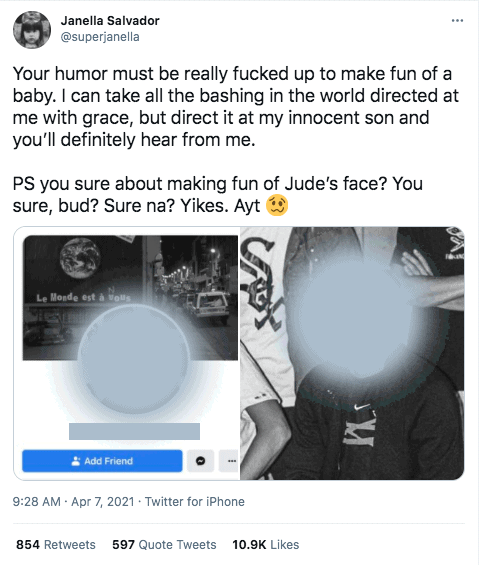 A certain Gabriel Anunciacion took to his Facebook account to offer his apologies to baby Jude and the couple.
"I know personally that it's demeaning to attack a five-month-old baby, and that bullying should not be tolerated regardless of a person's age, orientation, etc.," he said.
He continued on to shared that he has learned his lesson and "will be a better person and be more mindful of what I say or do."
While Janella acknowledged the apology, Markus questioned if the netizen would still say sorry if they weren't called out.
---
READ MORE: