Heaven Peralejo has cried foul after being tagged as the third party in Kiko Estrada and Devon Seron's rumored breakup. The actress' mother, on the other hand, is seeking a public apology from those "spreading falsehoods" against her daughter.
"I should not have been dragged into the personal issue between Devon Seron and Kiko Estrada. However, I will not stay silent about it especially after being harshly accused of something I didn't and would never do," the 21-year-old actress broke her silence in an Instagram story on Friday, March 12.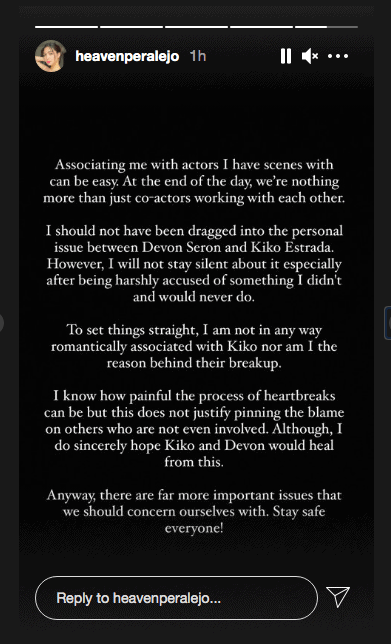 "To set things straight. I am not in any way romantically associated with Kiko nor am I the reason behind their breakup.
"I know how painful the process of heartbreaks can be but this does not justify pinning the blame on others who are not involved. Although, I do sincerely hope Kiko and Devon would heal from this," Heaven said.
In a separate Instagram post, her mother Shiela Luanne Peralejo-Angeles has warned of legal action if the people behind the "false and malicious" talk against her daughter will not issue a public apology.
"I'm calling out to those who are responsible for spreading LIES about my daughter HEAVEN, with clear intent to destroy her reputation. They are outright FALSE and MALICIOUS.
"For days, IG posts are insinuating that Kiko Estrada has been cheating on his ex-girlfriend, unnecessarily dragging Heaven as the third party.
"Without even trying to know the truth, these irresponsible people took to social media with ill-intent to create a bad image out of Heaven."
She said that they have exerted all efforts to reach out to the people concerned but that they refused to speak to them.
"Your failure to clear the name of Heaven has led to the continuing spread of these lies to which my daughter is being the subject of social media bullying," Angeles said.
"As a mother, I simply cannot allow this. If it will mean bringing this matter to court in order for these culprits to publicly apologize and admit to their fault, then so be it."
The statements came after Devon's cryptic Instagram post that had netizens speculating that she has already broken up with Kiko.
The former Pinoy Big Brother housemate on Tuesday (March 9) posted a black-and-white photo of clasped hands with the caption: "The tongue may hide the truth but the eyes never. I asked God for a sign but I witnessed it for myself."
READ: Devon Seron's cryptic Instagram post sparks breakup rumors with Kiko Estrada
In the comments section, some followers raised cheating allegations against Kiko and tagged Heaven Peralejo — his co-star in the ABS-CBN series Bagong Umaga — as the third party in the rumored split.
Devon has since turned her Instagram account into private mode.