Netizens had mixed reactions after Jake Cuenca tried to pull a proposal prank on his girlfriend Kylie Verzosa.
Jake recently shared a video of Kylie standing at the center of a romantic dinner setup, which was decorated with heart-shaped lights, at a resort in El Nido, Palawan.
The actor, who was the one filming the beauty queen-turned-actress, said in the video, "So, I prepared this because I just wanted to ask you one thing."
Kylie then gasped in shock as she waited for what Jake was going to ask her.
"So here it goes…" Jake said, keeping the suspense going, while Kylie wore an excited expression.
"Kumain ka na ba?"Jake finally dropped the question which changed the look on Kylie's face and then they both burst out laughing.
Fellow celebrities and some netizens, in the comments section, thought that the couple were going to get engaged.
"Bwiset!? naka-antabay ako eh ?," wrote Angel Locsin.
"Shucks!!!!!!!! Kala ko!!!!!!!" said Bianca Manalo.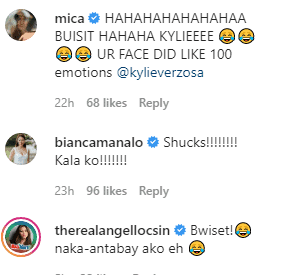 "Hahaha 'kala ko will you marry me na??," a netizen commented.
Kylie also left three different emojis in reaction to the prank video.

Others, however, called it a "bad joke".
"For most ladies, that was a bad joke. Don't do that again please!" said a netizen.

"It's a bad joke no matter (what), she might be smiling but deep inside that's what she was thinking. Duh. Don't be naive," another commented.
Jake, meanwhile, defended his actions, saying that he would pop the big question to Kylie when the right time comes.
"Yes, but we are not like most. We get each other and we get the timing of things. When the time is right and the timing is our I will not hesitate to ask ?," he said.