After Lt. Gen. Antonio Parlade Jr. of the National Task Force to End Local Communist Armed Conflict (NTF-ELCAC) urged Liza Soberano not to engage with women's group Gabriela Women's Party, fellow Kapamilya Angel Locsin took to social media to react on the matter.
In an Instagram story on Thursday, Locsin reposted a news outlet's quote card stating that Parlade warned Soberano for associating with the women's group.
"A man calling out a woman on how she would advocate women's rights. How 1920s," she wrote.
She then reposted another quote card of Senator Risa Hontiveros' take on the matter.
Soberano received online criticism and has been allegedly red-tagged after she participated in a webinar by the youth arm of the women's group. She was asked to speak on a young woman's contribution to raising awareness and creating a safe environment for young women amid the pandemic.
Parlade then asked critics not to red-tag the young actress but educate her on the alleged "hidden violent agenda" of Gabriela.
He also warned Soberano that if she continues her association with the group, she might share the same fate with the Gabriela youth leader who was slain in what was said to be an encounter between communist rebels and government forces in November 2017.
"The choice is yours Liza. And so with you Catriona. Don't follow the path Ka Ella Colmenares took in the underground and NPA Quezon. I am sure Angel Locsin and Neri Colmenares will not tell you this," he said.
Locsin also shared via an Instagram story a photo of her family during the birthday of a younger sibling. She tagged in the post her sister Ella whom Parlade mentioned in his statement.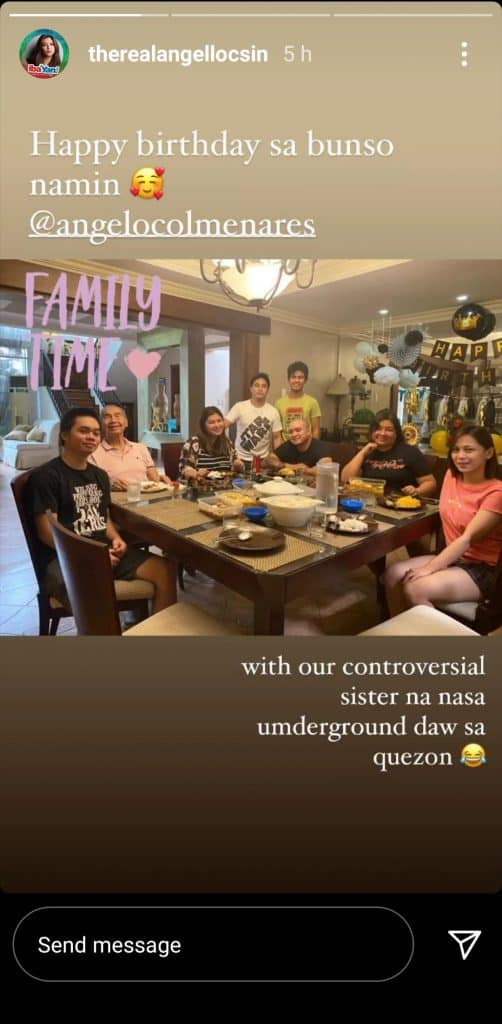 Locsin wrote: "With our controversial sister na nasa underground daw sa Quezon ?."
RELATED: