Kris Aquino has ended her showbiz hiatus after she announced that she has signed a contract with talent management company Cornerstone and "new partners" she didn't name.
On Tuesday, the Queen of Talk took to Instagram to share the news but was discreet with the details of the contract, saying she had signed it with three paragraphs on confidentiality.
"I am allowed to thank my @cornerstone family for their patience & perseverance; thank you to NEW partners for their vote of confidence; thank you @jonathanvelasco__; thank you @rbchanco for the pics & video; thank you to me for the editing & choice of background music," she said.
She also expressed her gratitude to her family and fans for helping her pray for this milestone.
"THANK YOU to my FAMILY & all of you, my loyal FOLLOWERS for helping me pray for this moment to finally arrive," she said.
Before returning to the limelight, Kris took a roughly two-year hiatus from the television work.
A netizen, however, noticed the talk show host was not wearing a mask during her contract-signing. But Kris was quick to defend herself, saying a N95 mask triggers her allergies and that she just had a rapid test for COVID-19.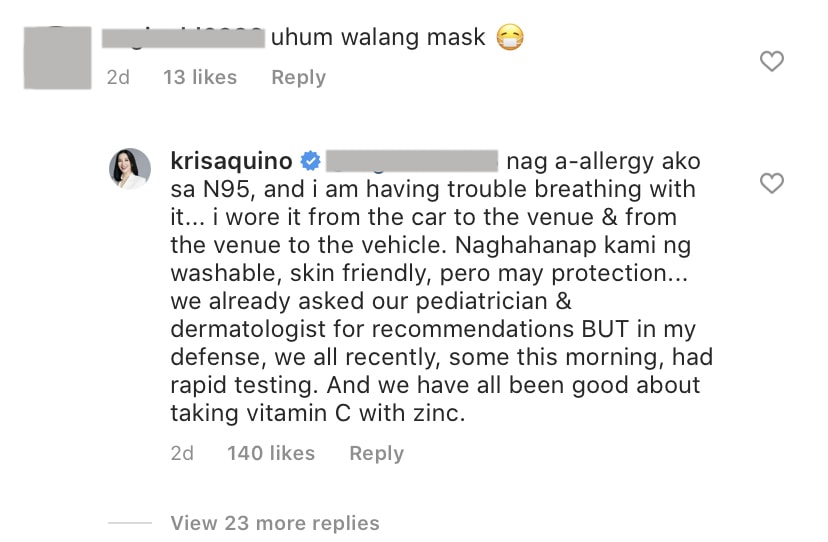 "Nag a-allergy ako sa N95, and I am having trouble breathing with it… i wore it from the car to the venue & from the venue to the vehicle. Naghahanap kami ng washable, skin friendly, pero may protection… we already asked our pediatrician & dermatologist for recommendations BUT in my defense, we all recently, some this morning, had rapid testing. And we have all been good about taking vitamin C with zinc," she said.
During the enhanced community quarantine in Metro Manila, Kris and her sons spent the lockdown in Puerto Galera.