On April 27, an attempted warrantless arrest of a man in an upscale subdivision in Makati City was caught on video and went viral on social media.
In a Philstar.com report, the man in the video, Spanish national Javier Parra, said a member of his staff reported that she was being fined P1,000 for not wearing a face mask when she was watering their plants outside their Dasmariñas home.
According to a Makati City ordinance, residents not wearing face masks will be penalized up to P5,000 and an imprisonment of up to six months.
In the viral video, Parra was seen tackled to the ground as Police Senior Master Sergeant Roland Madrona attempted to arrest him in his private property.
In the background, his wife was pleading to the officer not to arrest her husband without a warrant.
Amid the backlash against the cop, the PNP released a separate video on what happened before the incident, saying it was the foreign resident who started the scuffle with the police.
In the video, Parra was seen berating and cursing at Madrona who at the time was calmly explaining he was "ordered" to patrol the area and asking the former to settle the concern at the barangay hall.
In an Instagram post by a media outlet reporting the incident, actor and model Derek Ramsay left a comment, saying the man involved has no respect for the officer.

"Our soldiers and police are fighting hard for all of us. This man has no respect for them and for anyone," he wrote.
A netizen responded to Ramsay's comment, defending Parra.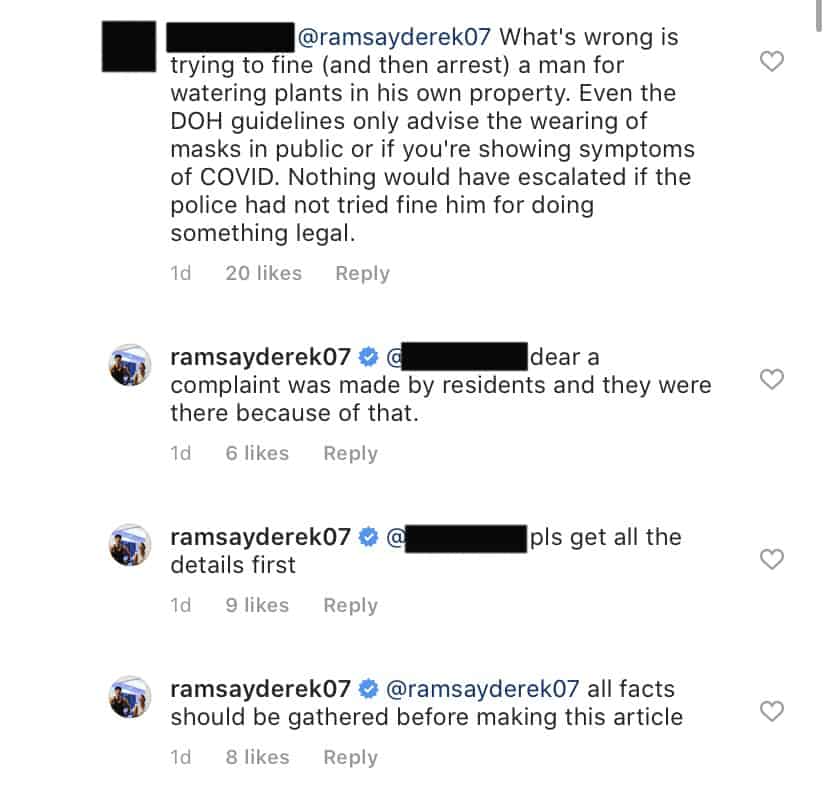 "Nothing would have escalated if the police had not tried to fine him for doing something legal," one said.
Ramsay asked the netizen to get all the details first. When they asked for Ramsay's sources for his information, he asked that they watch the first video again.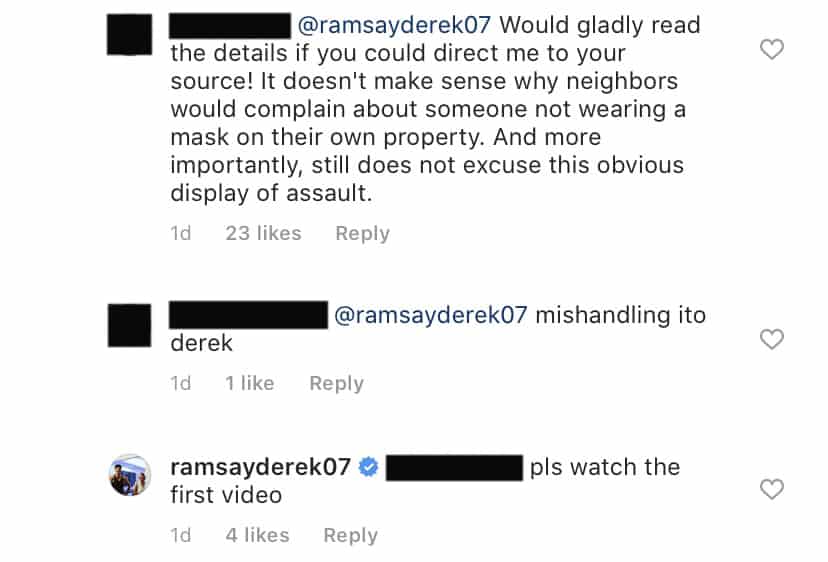 Another netizen said the uniformed officials were using unwarranted and excessive use of force on private property. This time, Ramsay asked the netizen to watch the "other video."
The actor didn't specify which video he was referring to, whether the viral video or the one released by the PNP.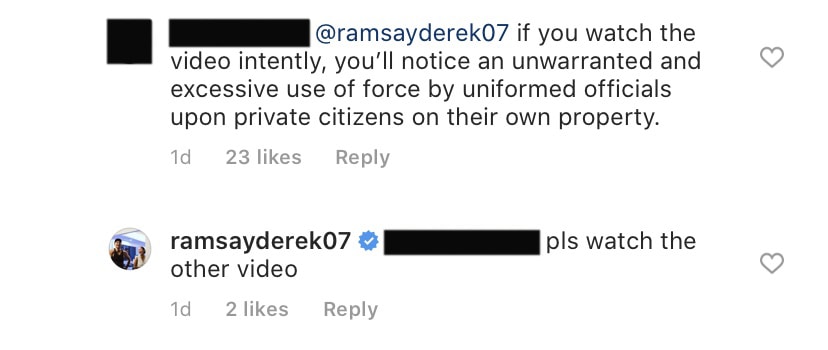 In another comment he left, Ramsay asked the public to watch how the man treated a frontliner.

"Watch the other video and see how this rich, entitled rude person treats one of our frontliners."
In a public Facebook post, Ramsay called out Parra for his "arrogance."
"Show respect to our soldiers and policemen!! Just because you are rich and live in an expensive residential area makes you decent or better than everyone. Kuya mag bago ka na! Your arrogance doesn't help. These men and women are fighting hard for all of us so keep your mouth shut if you have nothing respectful to say."