Kapamilya actress Nadine Lustre, through her lawyers, announced her split with her long-time talent agency, Viva Artists Agency yesterday, January 27.
In a press statement from Kapunan & Castillo Law Offices, Nadine is no longer a talent of the company and she will now manage her own affairs such as booking and inquiries (READ: Miss Independent? Nadine Lustre leaves Viva Artists Agency to manage own career.)
"For the information of the public, Nadine Lustre is no longer a talent of Viva Artists Agency. Consistent with her rights under the Civil Code of the Philippines, specifically Article 1920, she has decided to terminate her agency contract with Viva," the law firm wrote.
The same day of the announcement, the talent management company pointed out that Nadine is still an exclusive artist of Viva and it was willing to take legal actions should the actress enter dealings and engagements without their consent. Nadine still has eight years in her contract with the company.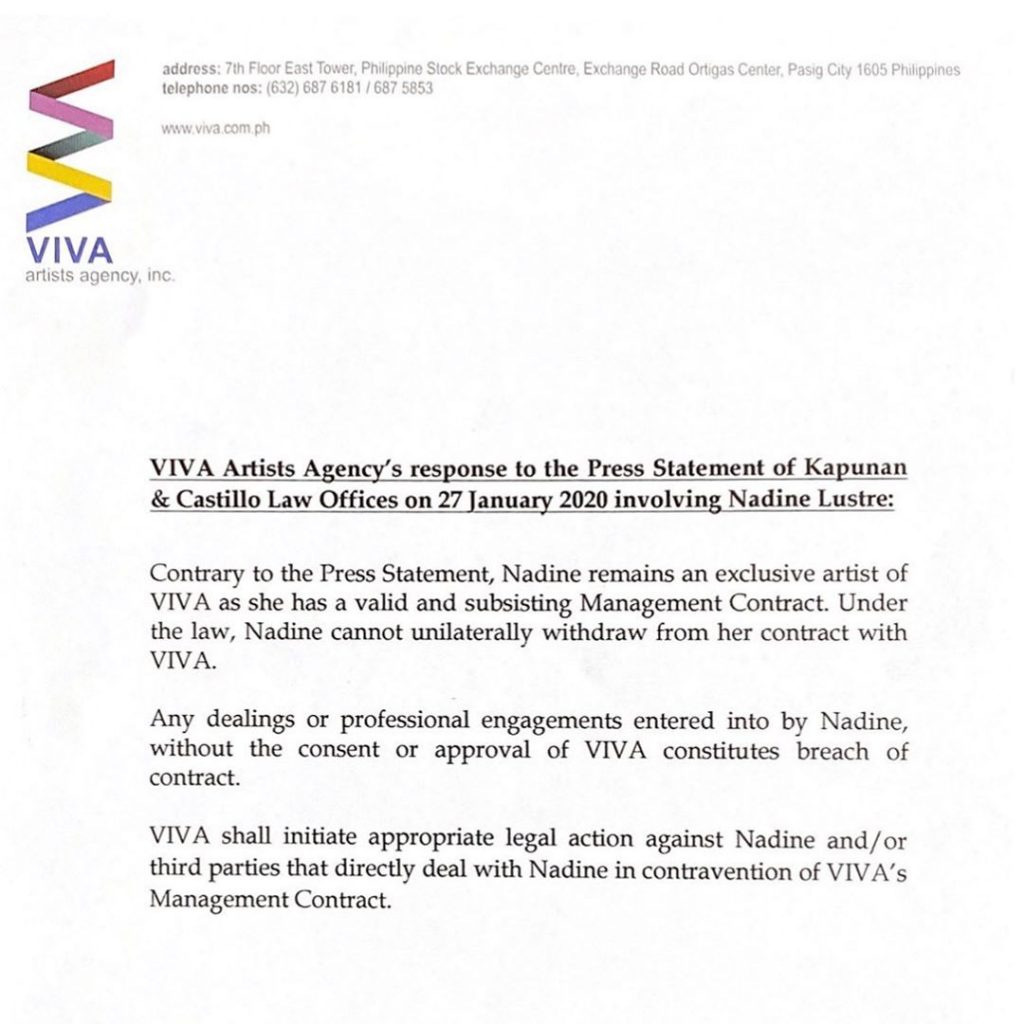 Following Viva's response, early today, the 26-year-old actress' camp released a statement declaring that they welcome any legal action from the company "so their unconscionable, oppressive and illegal contract with Nadine and (their other artists) can be litigated in the proper forum."
"It's about time that a David strikes out a Goliath that has taken advantage of young artists in the industry for the longest time. Viva lawyers have not replied to our earlier letters but chose to wait in ambush to malign Nadine and harass third parties dealing with her in good faith. This is wrongful and malicious contract interference by Viva actionable in law for damages," Atty. Lorna Kapunan said.
They added her exclusive movie contract with Viva Communications Inc, still subsists, subject to her right to refuse making movies.
Nadine's departure from Viva came four months after her former boyfriend James Reid left the same agency. She is a talent under Careless Music, James' recording label.
Now an award-winning actress, her career was built with the help of Viva Entertainment. Her first television appearance was for TV5's youth-oriented program Bagets. She was also a member of Pop Girls, Viva's all-female group, back in 2009.
Her loveteam with James, JaDine, also began in the hands of Viva with the film Diary ng Panget in 2014.
Viva has yet to respond to the latest statement of Nadine's camp.