Moments after the Taal Volcano explosion on Sunday, January 13, celebrities were quick to send words of concern for fans affected by the disaster.
Among the stars who asked for everyone's prayers was Anne Curtis. The actress and television host took to Instagram to send out her prayers.
Her post read: "Praying for all of those who have been affected by the taal volcano eruption in the Philippines yesterday. Hope everyone living close by were able to evacuate in time. Please take all necessary health precautions as instructed by the LGUs for yours and your family's safety. Stay indoors if you must.. I heard the ash fall reached the various parts of the metro last night and it can be quite hazardous to your health. Swipe to see how you can properly take care of yourselves and family. Please don't forget your fur babies too."
Broadway icon Lea Salonga quoted an article from Philstar.com, advising companies to let their employees work from home.
"Please let your employees work from home if their industry allows, and for your workers to remain indoors and safe, period. Your customers will understand," she said.
Actor Piolo Pascual spent his 43rd birthday watching Taal Volcano explode from his Batangas rest house. He took to Facebook to share his birthday wish.
"My birthday wish right now is for everyone to be safe…"
Iza Calzado made it known that her thoughts and prayers are with everyone affected.
"Taal Volcano making its presence felt, scary and beautiful at the same time. Praying for everyone's safety," she wrote on her Instagram post.
Posting a photo of Taal's explosion, Kapuso actress Heart Evangelista said she is hoping everyone stays safe.
"Hoping everyone stays safe during this time. Phivolcs has already raised Alert level 4 so please be sure to stay alert, aware, and updated. Sending prayers to those who are affected by this unfortunate situation," she said on her Instagram.
Television host Bianca Gonzales took the initiative to start a thread on Twitter for those needing N95 masks. The mask is a protection from breathing in small particles in the air.
"If you are a supplier or know anyone who supplies N95 masks (dahil nagkakaubusan na sa botika at hardware stores), please reply to this thread so that others can check also. My family is also trying to find kaso puro sold out na/ sarado na stores. Thank you," she said.
American-Filipino rapper Apl.de.Ap of the Black Eyed Peas also sent his prayers for his home country.
"I'm praying for everyone's safety in Manila and around the country. This is devastating news to wake up to. Please be safe, my thoughts are with all of you #taalvolcano #manila #love."
K-pop star and former Kapamilya artist Sandara Park did not miss the chance to remind her Filipino fans to stay safe.
Even South Korean singer-songwriter Siwon Choi sent out his prayers to the Philippines, especially those affected by the volcanic eruptions.
"My prayer goes out to the children and the elderly and infirm of the Philippines. I hope no one is seriously hurt from the volcanic eruptions and the earthquakes," he wrote on his Twitter.
Nancy Mcdonie of K-pop girl group Momoland also wished everyone in the country is safe.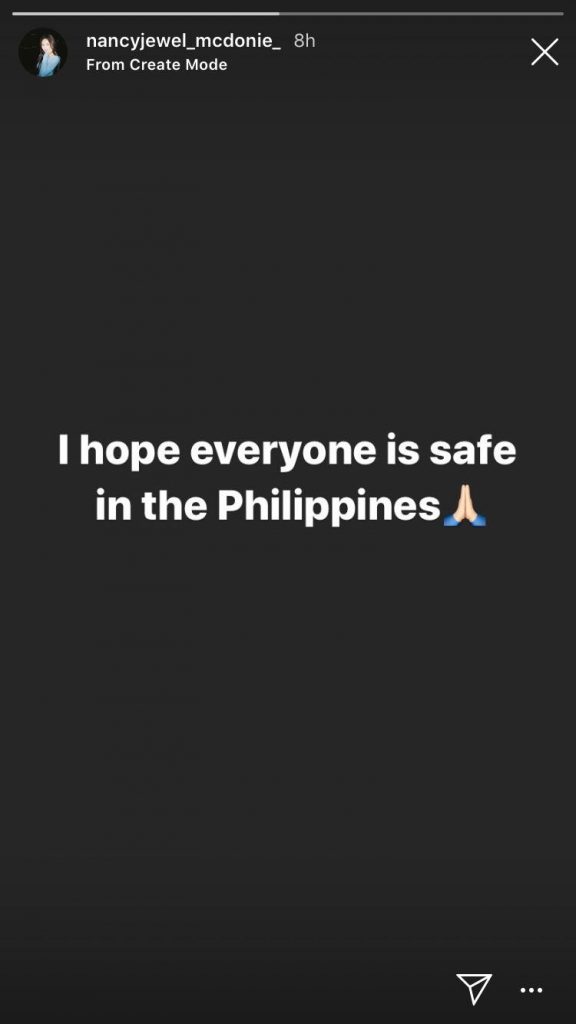 "I hope everyone is safe in the Philippines," she wrote on her Instagram stories.
South Korean singer and actor Kim Myung-soo, better known as L, thanked all his Filipino fans for attending his fan meeting the same day Taal erupted, January 12.
"I would like to thank all the fans who came to the fanmeeting tonight. Due to the eruption of a volcano near Manila, I hope that no one will be affected by this natural calamity," he wrote.