Camille Prats assured concerned fans that she is at her healthiest amid her fitness journey.
On Facebook, the actress-television host addressed her fans who made comments about her body and weight loss.
In the photo, the mom of three wore a pink dress, showing her toned arms and shoulders.
Her post received comments from netizens who said she is already "too thin" and asked her not to slim down more.
Camille addressed these comments and even apologized to those who didn't like her fitness transformation.
"I know I cannot please all of you, but I don't see anything wrong with my body. As long as I am healthy and strong, oks na ako dun. I'm really happy where I am physically and I hope to inspire more people to choose a healthier lifestyle," she wrote.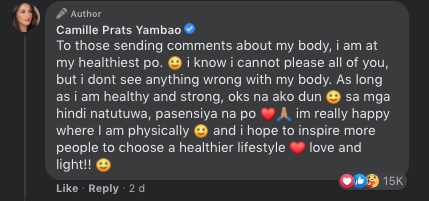 Back in April, Camille finally shared how she and her husband VJ Yambao developed the habit of staying fit.
In a YouTube video, the celebrity couple said their weight loss took a year to achieve.
"It took us almost a year to finally shed some pounds at talagang maging halata yung pag-payat or yung pag-lose ng weight but it really took us a lot of time, it took us a year to get here so ibig sabihin talaga nun, there is no such thing as an overnight thing," she said.