Thai trans woman billionaire Anne Jakrajutatip has once again denied she is dating Fil-German model Clint Bondad, saying she treats him like a brother. She also revealed he has been living in her house for more than nine months now and that "my family loves him."
Anne, the CEO of Thai content provider JKN Global Media, first set the record straight on her relationship with Clint back in October 2019, after photos of her and Clint made rounds online.
Recently, Anne came to the defense of Clint and spoke up on the controversies surrounding Catriona Gray's ex-boyfriend following his series of cryptic Instagram stories.
Some netizens took to the comments section to question why Anne seemed to be "meddling" in Clint's current issues.
The businesswoman responded that it's her responsibility to look after someone whom she considers as her family.
Others also continue to be intrigued by the nature of her relationship with Clint.
The self-made billionaire then stressed that she has "no secret relationship" with Clint, and repeated her previous statement that he is like a "brother" to her.

She also dismissed the remarks of those who put malice on her revelation that Clint is living with her.
In another response to a netizen, Anne divulged that she's currently dating a British national.
She also expressed her continued support for Clint's well-being and his future endeavours.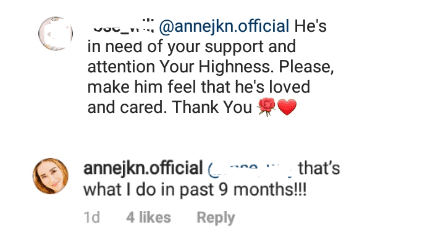 RELATED:
Thai trans woman billionaire defends Clint Bondad, says cryptic posts 'not about the ex'
'Liking the story so far?': Clint Bondad sends internet abuzz with cryptic Instagram posts
LOOK: Catriona Gray's ex Clint Bondad writes to Sam Milby