Following the recent revelations of former actor and concert producer Robby Tarroza, who questioned the legality of the marriage between the late rap icon Francis Magalona and his wife Pia Magalona, photos of their wedding abroad have resurfaced online.
The issue surrounding the appearance of Francis Magalona's alleged lover, Abigail Rait, has continued to heat up after certain individuals have involved themselves in the matter.
For instance, Robby Tarroza, who claimed to be Francis M.'s former concert producer, had previously cast doubt on Francis and Pia's marriage, also saying that the couple had a "rocky" relationship and were separated even before Abigail entered the picture.
Coincidentally, this was followed by the throwback photos of Francis and Pia, including photos of their wedding ceremony allegedly held in Hong Kong, which emerged on the social media account of Pilar Mateo.
Pilar used to be Francis' publicist before he joined Eat Bulaga.
The photos were posted way back in 2015 with the caption, "Wedding in HongKong of Francis Magalona and Pia". Their first daughter, Maxene, was also tagged in the post.
Just recently, over eight years later, Pilar left a comment in the comments section of her old post, clarifying the event, "THE HK WEDDING PO IN WAS ON JULY 14, 1995… MALI SI WIKIPEDIA. OKAY NA PO BA?"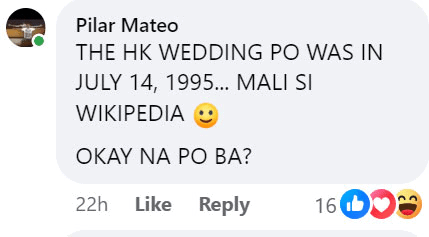 When Pilipino Star Ngayon interviewed Mateo on DZRH last Monday, she mentioned that Pia was the one who hired her for PR work for the late master rapper.
Pilar recounted that she was with them during their wedding in Hong Kong on July 14, 1995, along with some of Francis' dancer colleagues, Pia's personal assistant, and her eldest child from a previous relationship.
She claimed to have witnessed the wedding and, to her knowledge, they remained together until Francis passed away.
According to Pilar, she knows the couple very well, and she is confident that Pia would not engage in such rumors. She also expressed uncertainty about the extent of Robby Tarroza's knowledge regarding the couple.