After representing the Philippines in this year's Miss Universe pageant, Celeste Cortesi shared this inspirational quote on finding happiness within herself.
The pageant queen took to her Instagram stories to share the lengthy quote hours after competing with the 83 beautiful candidates at the New Orleans Morial Convention Center.
"You're going to realize it one day – that happiness was never about your job or your degree or being in a relationship. Happiness was never about following in the footsteps of all of those who came before you. It was never about being like the others.
"One day, you're going to see it – that happiness was always about the discovery, the hope, the listening to your heart and following it wherever it chose to go," the quote read.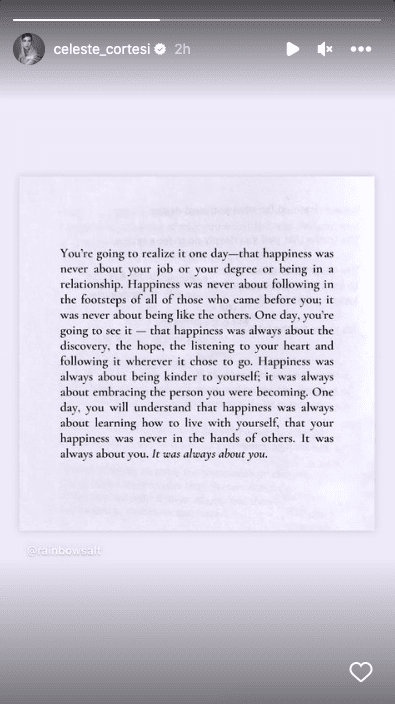 On her social media post, happiness was also described as a feeling that "was never in the hands of others."
This year's Miss Universe shocked Filipino pageant fans as they mourned the end of the Philippines' more than decade-long streak in the competition's semifinals.  
Despite this, fans online continued to express their support for the pageant queen and her performance.
"I hope Celeste will not only be remembered as the rep who ended the winning streak of PH in #MissUniverse. She is more than that. She is empowered, intelligent, beautiful and powerful. The Philippines is behind you, Celeste Cortesi," a Twitter user wrote.