It looks like DJ Loonyo was not impressed with Janine Berdin for posting a meme about him.
The 26-year-old dancer and choreographer took to social media on Wednesday, July 13, to express his displeasure at Berdin for using a meme about him as her Facebook cover photo.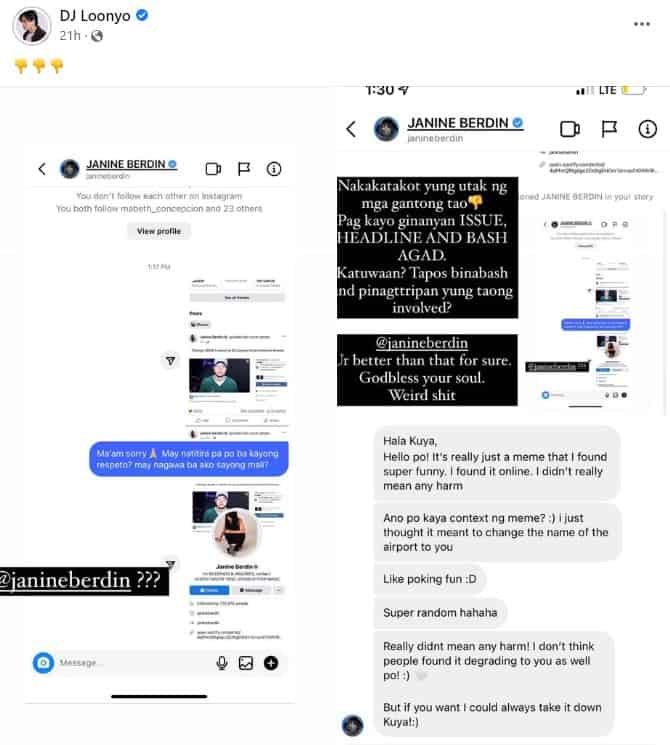 The meme posted by the 20-year-old singer earlier on Tuesday, featured a screenshot of a petition to change the name of the Ninoy Aquino International Airport (NAIA) to DJ Loonyo International Airport, along with the caption: "DJ Loonyo is the only hero" for a dance step holding his crotch, to supposedly justify the said request.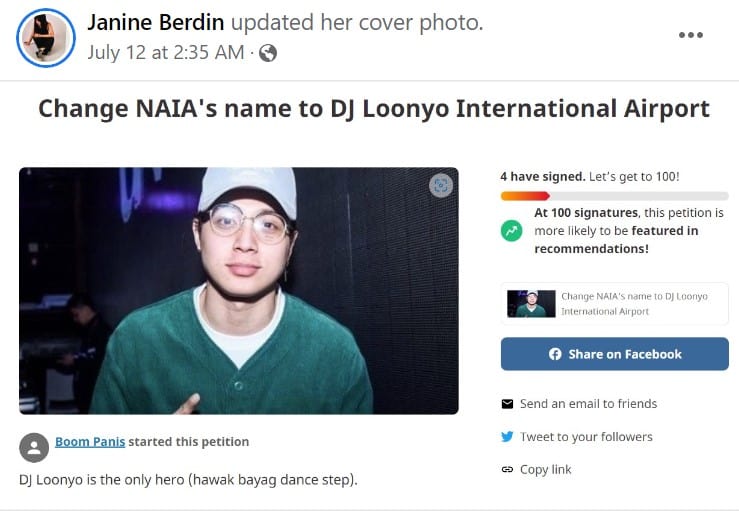 Some netizens were initially sent laughing over the meme, but DJ Loonyo was clearly not happy.
Based on screenshots he shared on social media, the dancer-choreographer had initiated a private conversation between him and Berdin.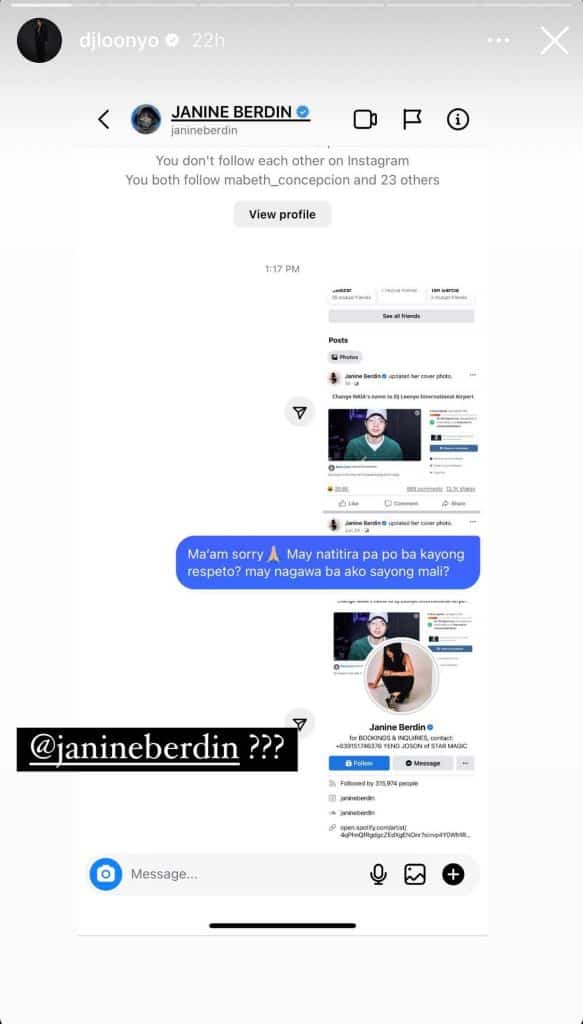 "Ma'am sorry 🙏 May natitira pa po ba kayong respeto? may nagawa ba ako sayong mali?" DJ Loonyo wrote, attaching screenshots of Berdin's Facebook account which showed the said meme about him.
The young singer then explained that she merely wanted to poke fun with a meme she found "super funny," claiming she did not mean any harm.
She also asked DJ Loonyo if he wanted her to take down the post.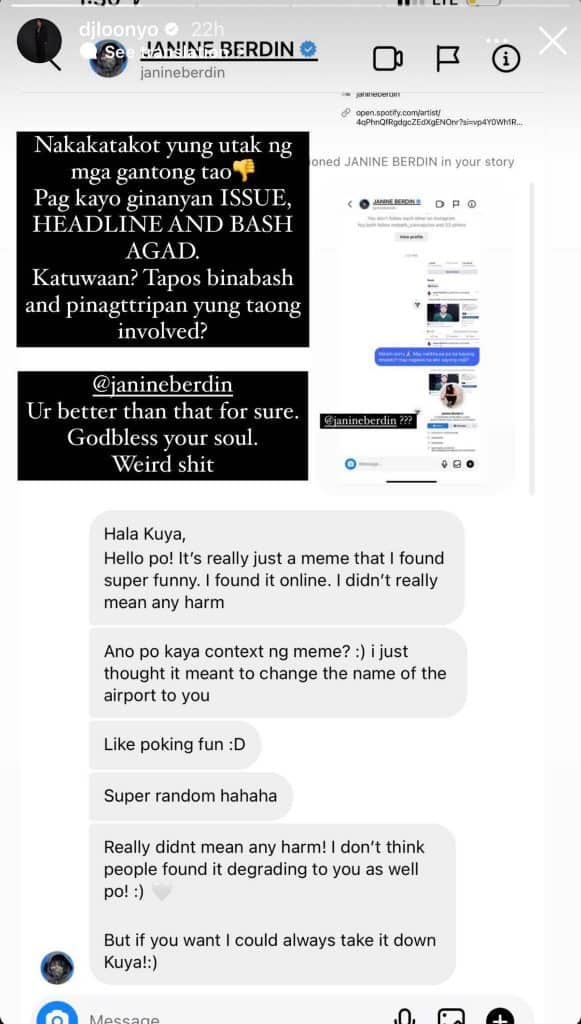 "Really didnt mean any harm! I don't think people found it degrading to you as well po! 🙂 🤍," one of Berdin's replies read.
However, DJ Loonyo seemed to have made it clear that he was not impressed by the young singer's explanation, as he publicly shared screenshots of their private conversation on social media.
"Nakakatakot yung utak ng mga gantong tao 👎 Pag kayo ginanyan ISSUE, HEADLINE AND BASH AGAD. Katuwaan? Tapos binabash and pinagttripan yung taong involved?" he wrote.
"Ur better than that for sure. Godbless your soul. Weird sh*t," he continued, addressing Berdin.
DJ Loonyo also took to the comments section of his own post to add that people should be "sensitive" to what others are going through.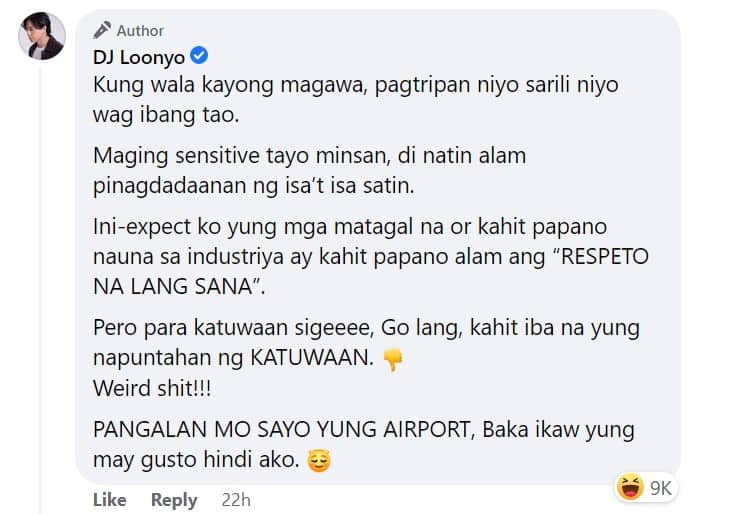 "Kung wala kayong magawa, pagtripan niyo sarili niyo wag ibang tao," the dancer-choreographer wrote.
He also said that he felt dismayed as he expected people who have been working in the entertainment industry would know a thing or two about giving respect.
"Pero para katuwaan sigeeee, Go lang, kahit iba na yung napuntahan ng KATUWAAN. 👎Weird sh*t!!!" he wrote.
"PANGALAN MO SAYO YUNG AIRPORT, Baka ikaw yung may gusto hindi ako. 😇" he added.
Soon after, Berdin aired her own reaction to DJ Loonyo sharing screenshots of their private conversation and penned a reply via Instagram story.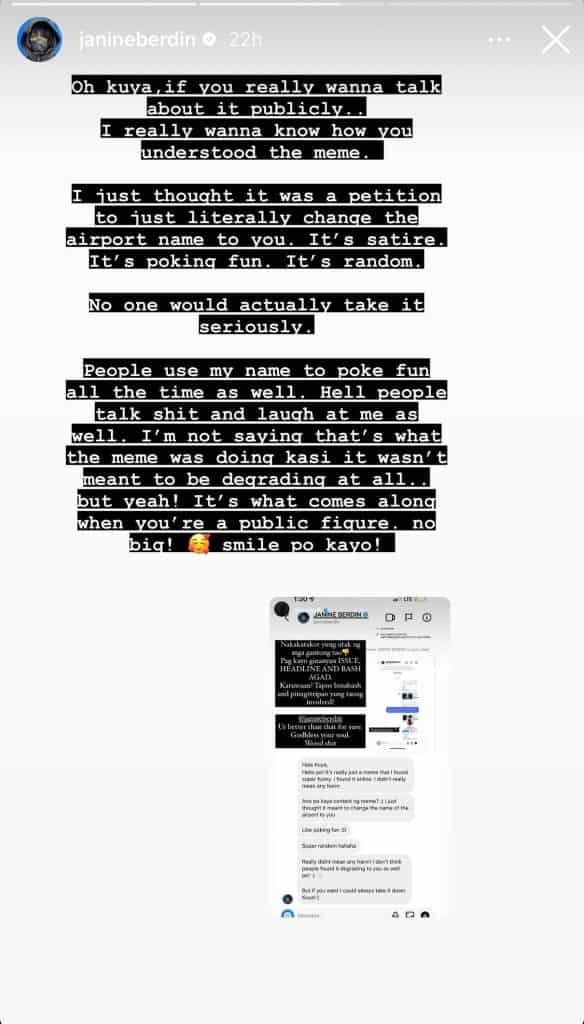 There, she posted her explanation to the dancer-choreographer on the meme being used to merely poke fun, adding that it was "satire" and that "no one would actually take it seriously."
"People use my name to poke fun all the time as well. H*ll people talk sh*t and laugh at me as well," Berdin wrote.
"I'm not saying that's what the meme was doing kasi it wasn't meant to be degrading at all… but yeah! It's what comes along when you're a public figure, no big! 🥰 smile po kayo!" she added.
DJ Loonyo has since also reacted to the young singer's Instagram story on the comments section of his first post.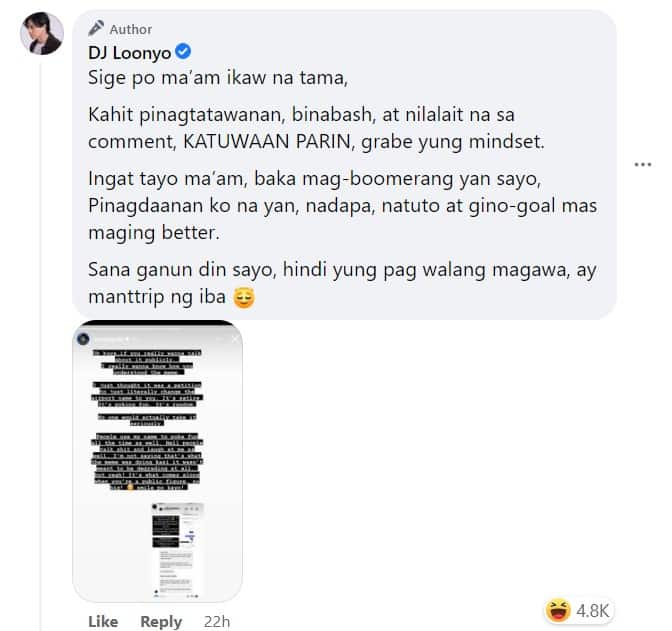 "Sige po ma'am ikaw na tama. Kahit pinagtatawanan, binabash, at nilalait na sa comment, KATUWAAN PARIN, grabe yung mindset," he wrote.
The dancer-choreographer also told her to take care as her actions might backfire and she could find herself in a similar situation.
"Pinagdaanan ko na yan, nadapa, natuto at gino-goal mas maging better. Sana ganun din sayo, hindi yung pag walang magawa, ay manttrip ng iba 😇" DJ Loonyo added.
Berdin has yet to respond to his comments directly, but the young singer has also taken to Facebook to share yet another meme — this time with a picture of the NAIA featuring its signage, but overlaid with a text bearing her name.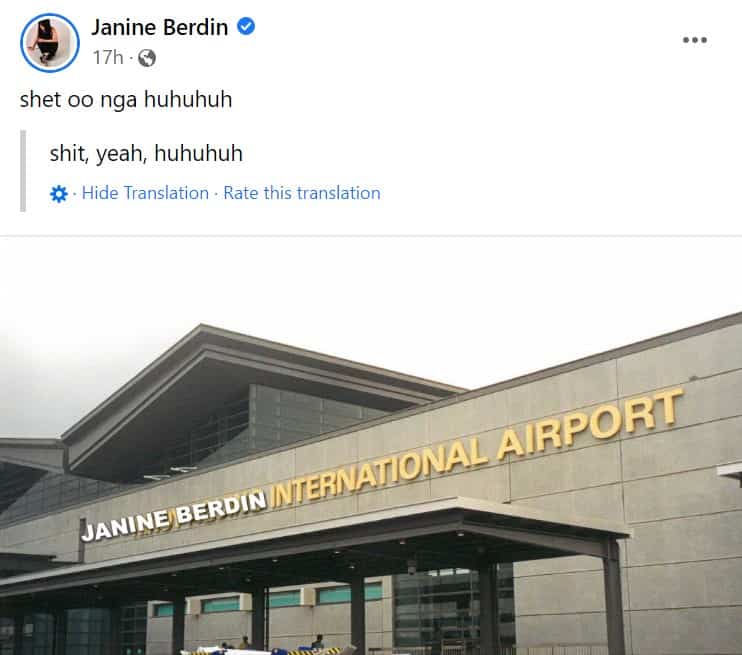 Her Facebook cover photo has also remained unchanged as of writing.