Viy Cortez of Team Payaman showed netizens the reality of post-pregnancy with a photo of herself on Facebook.
On Monday, YouTuber Viy Cortez shared a photo of herself just days after giving birth to her son Zeus Emmanuel "Kidlat" Velasquez.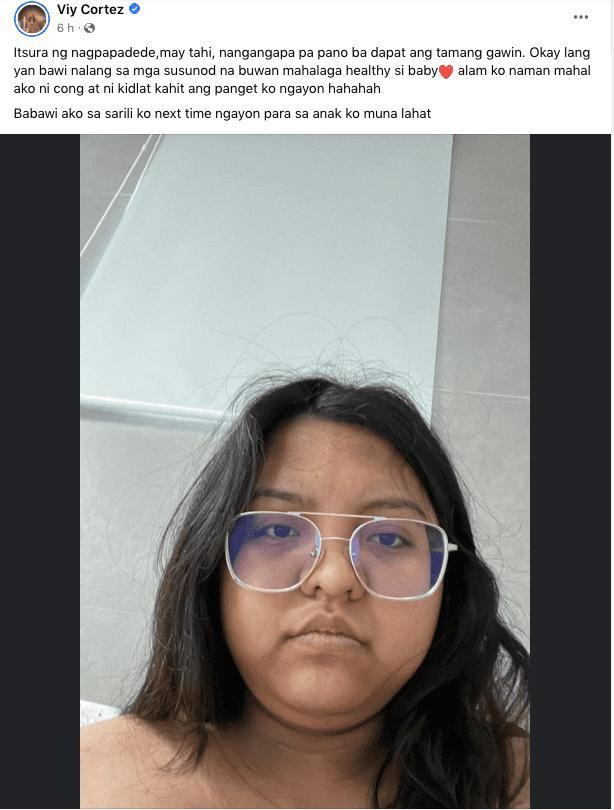 "Itsura ng nagpapadede, may tahi, nangangapa pa pano ba dapat ang tamang gawin," Viy wrote on her post.
"Okay lang yan bawi nalang sa mga susunod na buwan mahalaga healthy si baby," the vlogger said. 
"Alam ko naman mahal ako ni cong at ni kidlat kahit ang panget ko ngayon hahahah," Viy continued.
"Babawi ako sa sarili ko next time ngayon para sa anak ko muna lahat," she added.
Viy's recent post resulted in a flood of comforting messages from fans and friends.
One netizen said, "Para kay baby kidlat! Go sis!! We're so proud of you! God bless you and your fam."
"It's okay, Viy. We all go through that as moms. Kudos for being a hands on mom to Kidlat!" Another netizen wrote.
Her sister-in-law, Vien Iligan-Velasquez, also commented on Viy's post with a GIF that said "You did a great job."
The new mom and husband Cong TV welcomed their newborn baby 'Zeus Emmanuel "Kidlat" Velasquez' last Tuesday, July 5.
This is Viy's second pregnancy after she had a miscarriage back in December 2020.
RELATED: