Twice's Nayeon has made history with her solo debut!
The K-pop star's first solo mini-album, Im Nayeon, debuted at seventh place on Billboard's Top 200 Album charts, the weekly ranking for the most popular albums in the United States, on July 3.
This makes Nayeon the first ever K-pop soloist to land in the Top 10 of the Billboard 200, based on a report by Korean entertainment news outlet Soompi. 
Twice has previously entered the Top 10 two times as a group as well with Taste of Love: The 10th Mini Album and Formula of Love: O+T=<3, The 3rd Full Album, both in 2021.
Additionally, Nayeon is also the first South Korean female soloist to enter the Billboard 200, 13 years after BoA released BoA (English version) back in 2009, according to allkpop.
Billboard officially reported that Im Nayeon earned a total of 57,000 equivalent album units, based on Luminate data.
Physical album sales of the Twice member's solo debut album were at 52,000 copies, while on-demand audio streams were at 6.56 million streams.
Meanwhile, fans of Nayeon and Twice, also called Onces, seemed to have been unable to contain their joy and excitement for their K-pop idol.
On Monday, July 4 (Manila time), Onces took to Twitter to congratulate Nayeon on her historic achievement, making #NAYEON_BB200_TOP10 climb to the fourth spot of the Philippines trend list, as of 1:30 PM.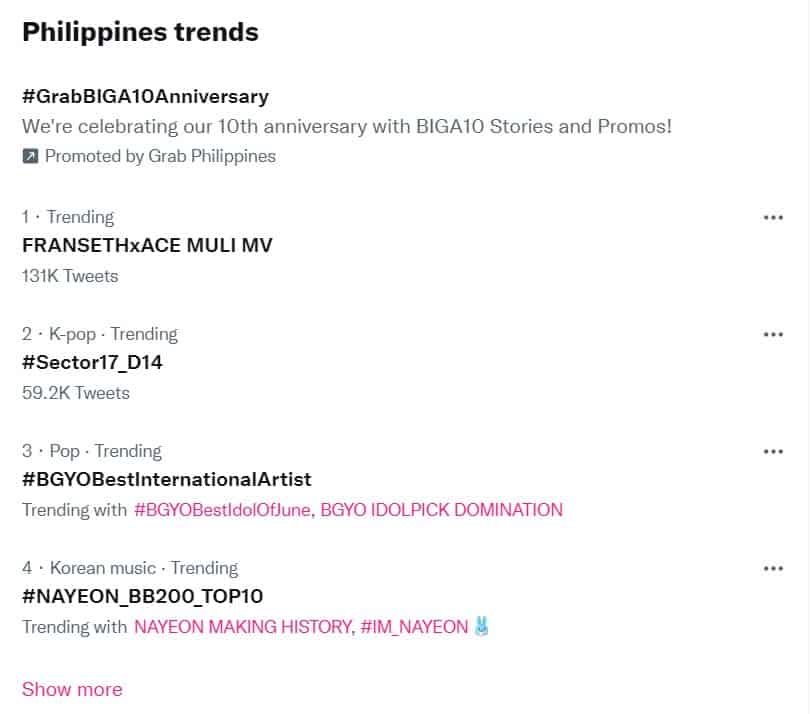 Nayeon recently marked her solo debut with the release of Im Nayeon back in June 24.
The mini album consists of seven tracks, including Pop! which has been well-loved by fans and even K-Pop idols alike.
READ: Nayeon's POP! is a bop: K-pop idols, local celebs do the #PopPopPop challenge