Excited for D.P.'s release date? We've got the lowdown on what you need to know before immersing in the realistic depiction of men in the South Korean army.
During the show's Netflix press conference, lead actor Jung Hae-in revealed that D.P. is short for "Deserter Pursuit," the military unit that goes after army men who fled from their duties.  
His character Joon-ho is just one of the many soldiers in the South Korean military who became a member of the deserter pursuit unit.
"It's a story that follows their pursuit of army deserters and through their story, we'll be able to look into the personal story of those who have deserted the army," the shows director Han Jun-hee said.
D.P. is based from a popular webtoon by Kim Bo-tong. The well-loved story has collected over 10 million views for its realistic portrayal of the brutal violence and human rights violation committed in the military.
This special military unit is not completely unheard of in South Korea but it's definitely not in the mainstream. In fact, even the rest of the cast Koo Kyo-hwan, Kim Sung-kyun and Son Suk-ku only learned about the details of the unit through their show.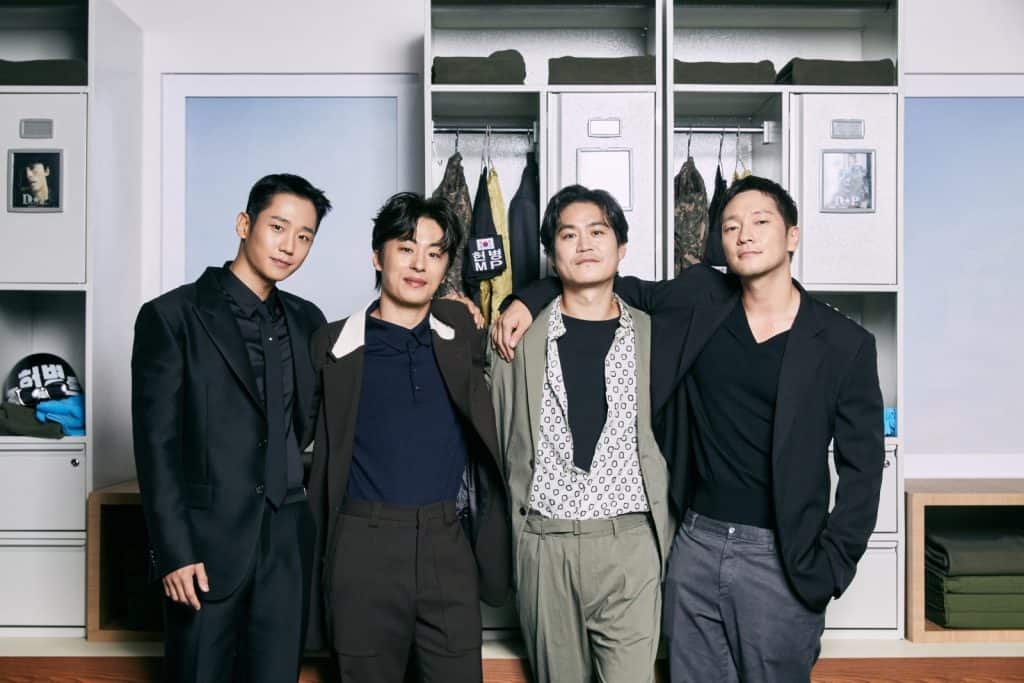 "I knew that there were military police who went after soldier who broke the guidelines or laws of the military, but the series was the first opportunity for me to learn about the D.P. unit," Sung-kyun said.
While Jun-hee aimed for an accurate depiction of the popular webtoon, interesting changes were made. In the webtoon, Hae-in's character already held the position of a corporal, while in the series he will play a newbie in the military.
"It's kind of like a prequel to the webtoon since it starts when he enlists," Hae-in said.
Meanwhile, Suk-ku and Kyo-hwan will be portraying new characters who are not in the original webtoon.
Suk-ku will be playing a captain at odds with Sung-kyun's character, Sergeant Park Beom-gu. While Kyo-hwan's character Ho-yeol will bring an unexpected friendship for newcomer Joon-ho.
Even with these modifications, expect the "humanistic drama" to shed some light on social issues in the military.
"What was important for me was what kind of stories could be portrayed through this series. Young men in their early 20s all go serve in the military and I think people can really resonate with the story and put themselves in the shoes of the characters," Jun-hee said.
Catch the pursuit with the D.P. unit on August 27 on Netflix.