The National Historical Commission of the Philippines (NHCP) has weighed in on the controversy generated by Fil-Am rapper Ez Mil over his lyrics about the national hero Lapulapu in his now-viral song Panalo.
NHCP chairperson and concurrent National Quincentennial Committee executive director Rene Escalante issued a statement on Wednesday, February 10, saying that the rising rapper erred in his lyrics about Lapulapu, considered the first Filipino hero. Incidentally, the country will hold the quincentennial commemorations on the victory of Lapulapu and the people of Cebu in the famous Battle of Mactan this year.
In Panalo, part of the lyrics said that the 16th-century Cebuano warrior and leader was beheaded in Mactan: "Nanalo na ako nung mula pa na/ Pinugutan si Lapu sa Mactan/ At lahat ang nasaktan na/ Nalaman nila na pinatay/ Ang kanilang bayani/ Sa karagatan ng bansa/ Na pag-aari ng Pilipino…"
Escalante said the NHCP, the government agency in charge of the promotion of Philippine history and cultural heritage, welcomes new songs that inform and inspire Filipinos about their history, but not compromise it.
He also urged artists to be conscious of their accountability over messages they convey to the public.
Here's the full statement:
"As we approach the 500th anniversary of the Victory at Mactan this 27 April 2021, let us be reminded how the founders and heroes of the Filipino nation reckoned to Lapulapu and Mactan as sources of pride and dignity.
"Emilio Jacinto, for example, wrote a poem in 1895 reminding the members of the Katipunan that in their veins ran the blood of Lapulapu. Ambrosio Rianzares Bautista memorialized the same in the document proclaiming Philippine independence he penned and read before the Filipino people on 12 June 1898.
"These documents, along with a number of writings and works of art that followed, were guided by the same zeal — and that includes the song titled 'Panalo' written and composed by Filipino-American rapper Ez Mil (Ezekiel Miller).
"The National Historical Commission of the Philippines welcomes new songs that inspire our people to think great and be informed of their history. But let us not compromise history and be conscious of our accountability on what we are conveying to our people.
"LAPULAPU WAS DEFINITELY NOT KILLED IN THE BATTLE OF MACTAN. THE BATTLE WAS A VICTORY OF OUR ANCESTORS LED BY HIM."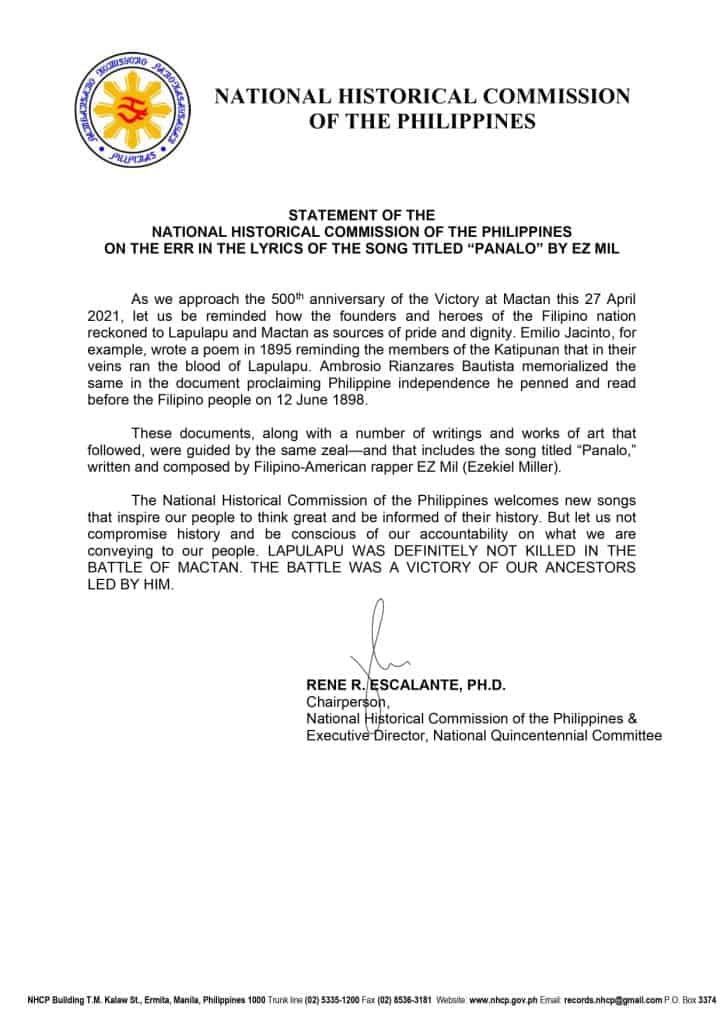 On Monday, Lapu-Lapu City Mayor Junard Chan wanted to have Ez declared "persona non grata" or unwelcome person over the inaccurate depiction of Lapulapu, although he later on softened his stance and said he will ask for a public apology and "rectification" of the lyrics instead.
READ: Lapu-Lapu City council defers resolution asking Ez Mil to change controversial Lapulapu lyrics
Ez Mil, who grew up in Olongapo and moved to the States roughly five years ago, has earlier apologized for "twisting how things were" in his song.
"I'm sorry to anybody who was offended with the fact that me being putting inaccurate sources in our history as Filipinos," he said in a YouTube video.
READ: Here's why Ez Mil won't 'correct' Lapu-Lapu lyrics in viral rap song
He, however, has already said in a virtual presscon that he has no intention of releasing a "corrected version" of Panalo, a Wish USA performance of which has now reached a whopping 30 million views.