After a "brief break", the Barretto family feud reared its ugly head again over the weekend in what seemed to be the showbiz clan's choice of battlefield — the Instagram.
Claudine Barretto made fresh accusations against her sister Marjorie through an IG video on November 2, which seemed to have secretly taped Marjorie as saying something against their mom Inday.
The video was spliced with a snippet of Marjorie's tell-all interview wherein she decried being painted as the "bad daughter."
Her exact words then were: "Now when we talk about her painting me as a bad daughter, I will put my foot down.
"I am a good daughter. I am present every Sunday, every family event. I throw them parties, I serve them. I visit my family, okay."
Claudine's video post, however, went on to counter the "good daughter" statement.
From her video, Marjorie could be heard as telling people, including daughter Dani Barretto, in what appeared to be a hospital lobby: "Super drama si Inday, baka masapak ko."
The good daughter?
It's not clear if Marjorie was referring to Inday Barretto, their mom, or someone else.
But for Claudine, there's no other Inday in their lives but their mom.
Her full caption (edited for clarity) said: "My heart breaks for my mom. Although this didn't surprise me because she does this all the time. Earlier this year, she was going to hurt my mom physically and in so many more times.
"Now that my Dad is not around, I promise on my father's grave that this will never happen again.
"This was the argument my mom and Marjorie had regarding Julia's 500k hospital contribution (in exchange of my parents' Subic home) #gooddaughter," she wrote, also mentioning Marjorie's daughter Julia.
She continued, "Here's a fact: Marjorie came out of the ICU where my dad was in a critical condition. Only two visitors at a time can enter the ICU (it was only mom Inday and Marjorie inside the ICU. She then says, super drama si Inday baka MASAPAK KO. Who then can she refer to other than my mom Inday."
"To the one who sent this video, thank you so much."
Claudine to Inday: I respect you so much
Claudine threw more shade at her sister through several more posts, including photos that showed her hugging her mom along with the caption: "I love you and respect you so much @estrellabarretto."
She also reposted a supposedly IG story of her mom under the handle @estrellabarretto that said: "I am the Inday Marjorie was referring to after a big fight in the hospital about the subic home we own. I'm in shock and in so much pain as a mother. I just learned about the video and my heart breaks.
"Marjorie, Claudine, said everything. Please don't drag my name Marjorie. Didn't know you were doing damage control by using me. Learn to tell the truth and nothing but the truth."
Marjorie to Claudine: I'll see you in court
As of this writing, there is no IG post from Marjorie addressing Claudine's accusations. Her two most recent posts though showed happy family photos with their mom Inday.
"Sunday lunch❤️ We miss you today, Dad," she wrote in her November 3 IG post.
Marjorie didn't let this post pass via a strongly-worded comment refuting Claudine and threatening to haul her to court.
She wrote: "PROVE this twisted story of yours in court. Prove that I have ever tried to physically hurt my Mother. And PROVE this was the argument that my Mom and I had about Julia giving 500k in exchange for the Subic home.
"PROVE it. Because it was only when Dad was dead that Julia paid the 500k and so much more than any of us. And how we repeatedly made it clear Julia was (not) buying the Subic house, long before Dad died, that was clear to all, all siblings knew that, you wrote it down in your paper, and you were recording it from your phone without our consent.
"You are making up this story. I will see you in court, the rest of the family will stand by me as witnesses," Marjorie ended.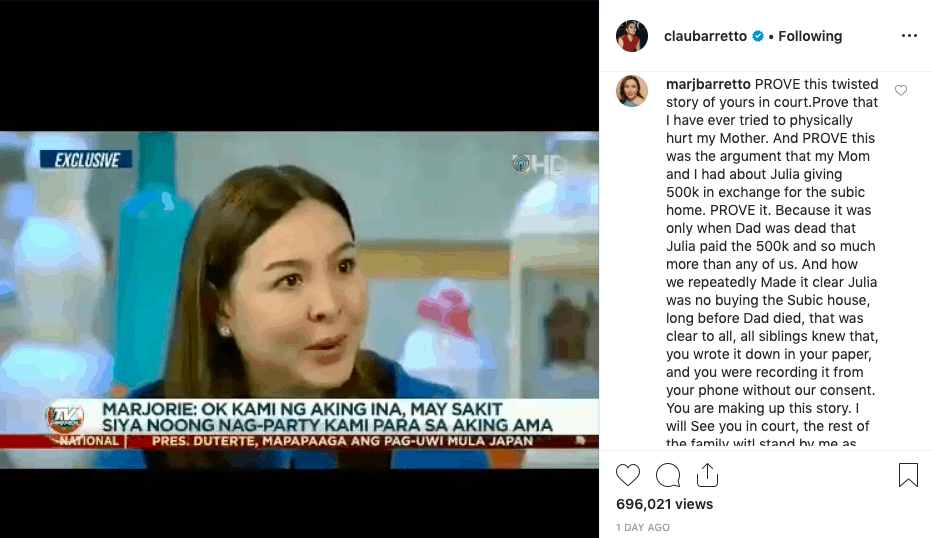 Meanwhile, Gretchen who at the onset of the family feud was relentlessly posting comments and IG stories dissing Marjorie and daughter Julia has been "silent" — so far. She only reacted to Claudine's video-post with a prayer hands emoji.
The family feud broke out at the wake of their father, Miguel Barretto, last October 15, evolving into a "real-life teleserye" replete with physical confrontations witnessed no less by the President of the Philippines, explosive TV interviews and a bitter word war on social media.