Bela Padilla felt the need to release a breakdown of the donations for Pinoys affected by the coronavirus (COVID-19) crisis after a netizen questioned what happened to the P3 million she raised via an online fundraising page.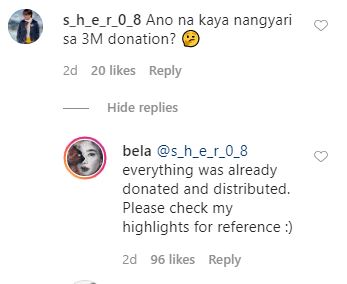 In an Instagram post, Bela detailed how she spent the cash donations "for everyone's peace of mind".
The Kapamilya actress initially targeted to raise P1 million through GoGetFunding last March 12 to aid street vendors and the less fortunate who would be most affected by the imposed community quarantine. 
In just two days, Bela's online campaign didn't only reach but also surpassed the target. She closed the funding page with P1.37 million, plus an additional P2 million from an unidentified donor, bringing the total amount to P3.3M.
The Kapamilya actress noted that "it's all my money that went out" since the P1.3M hasn't been released yet by PayPal and the P2 million donated by "ONE PERSON" hasn't arrived yet.
"But the food I bought for the two days was worth around P2.5 (million)," she said. 
Bela then proceeded to show the breakdown of the donations.
"P1M worth of canned goods and rice went to Caritas Manila," she said. 
Another P1 million worth of groceries and other goods were split into two groups.
"The first was delivered to the persons with disability (PWDs) of Quezon City by my friends who volunteered, while the second group is what the Philippine Army and I distributed out on the streets of Pasay, Manila, and Makati," she added.
"The last 500k I had out of the bank was used for rice and more canned goods that were sent to Caritas Manila last Friday."
Bela is planning to have one more food drive when she receives the money next week.
The Kapamilya actress documented and put her donation drive updates in her Instagram highlights.