Baby Lilo, actress Andi Eigenmann's 10-month-old daughter, went out surfing for the first time with her champion surfer dad Philmar Alipayao. 
In a video posted on Philmar's Instagram account, Lilo can be seen braving the small waves with her papa in the island of Siargao. 
"Soo happy! Lilo's first surf at 10 months. Can't wait for more surf with me," the proud father captioned his post.
The one-minute clip also brought amusement to netizens.
One netizen, however, expressed concern over baby Lilo's safety, suggesting that she should have put on a life vest. 
"Omg! Super galing and what a brave Lilo! But…Please let the baby wear a life vest next time, just for safety. I know you're a great surfer.??‍♂️??," she wrote.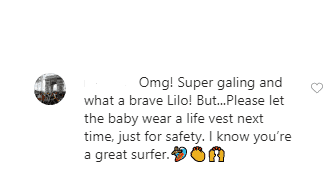 Andi was quick to assure the netizen that her partner is a professional and knows what he is doing.
"Please trust that (Philmar) is the professional and that we won't let anything bad happen to our child and (that) we know what we are doing. But thanks for the concern," said Andi.
It seems like baby Lilo will be following in the footsteps of her father!
Here are some impressive clips of her dad fearlessly riding the waves.