Ella Cruz is living the fangirl life to the fullest as she got to perform in front of her idols.
Kpop girl group Blackpink appeared to be blown away by the performance of the Pinay actress-dancer together with SB New Gen members Daphny and Eunice.
Ella, Daphny and Eunice represented the Philippines as Team Gabriela at a dance competition during the Samsung Awesome Live fan meeting with Blackpink in Jakarta, Indonesia.
Ella shared a short clip of their performance on her Instagram where Blackpink members could be seen gushing over them as they hit the stage with a lit mashup of Blackpink songs.
Blackpink's main dancer Lisa looked even more amazed what with the killer move where SB New Gen's Daphny showcased her flexibility by bending her body backwards onto the floor, and getting back up effortlessly.
Still not getting over Blackpink's priceless reaction, Ella wrote "Highlight of our performance! TOTOO BA TO ???" on Instagram.
Ella also shared other winning moments such as getting the Awesome Cover award, snapping a group photo with her idols (she was next to Rose!), having a short convo with Rose and shaking hands with Jisoo.
Meanwhile, Filipino Blinks including celebrities couldn't help but feel proud of Ella's ultimate fangirl moments.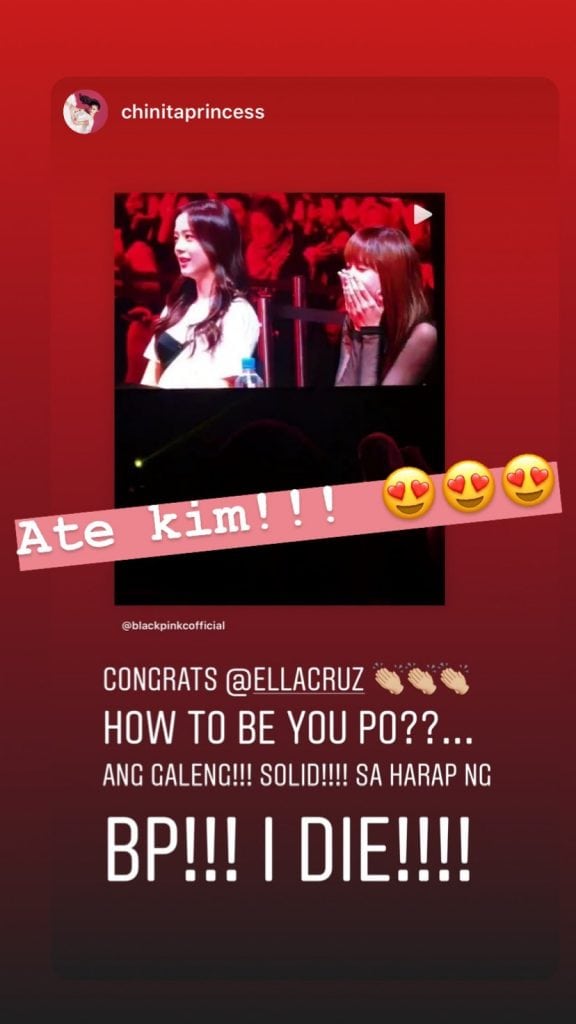 Julian Trono couldn't even be more proud with his girlfriend.
"Seeing her perform in front of her inspirations really gives me goosebumps!!! BP's reactions, too!! Mad love to the girls and of course, to the Queen of my own, @itsEllaCruz! Uwi na po hahaha. Represeeeeeeent," tweeted Julian.
Watch their lit performance here: