Award-winning filmmaker Peque Gallaga passed away due to health complications on Thursday, according to multiple reports. He was 76.
The Negrense director died "at the Riverside Medical Center in Bacolod City this morning," the Bacolod-based newspaper Visayan Daily Star said, quoting Gallaga's brother Dr. Ricky Gallaga.
Messages from friends and colleagues in the entertainment industry mourning the death of the Oro, Plata Mata director poured on social media.
"I am devastated. I lost one of my greatest mentors. A lot of us are in great pain for this loss," wrote director Joey Reyes on his Facebook account.
"Paalam, Direk Peque Gallaga. The film industry will miss you. All of us will miss you," said writer Lualhati Bautista on Facebook.
Cinema One head Ronald Arguelles also paid tribute to Gallaga. "Rest in Peace, direk PEQUE GALLAGA (Oro Plata Mata, Scorpio Nights, Virgin Forest, Unfaithful Wife). We will miss you," he wrote.
Actress Judy Ann Santos said she will always be forever grateful for the opportunity to work with the legendary director.
She wrote on Instagram: "My dearest direk Peque… I will forever be grateful for the chance na nakatrabaho kita.. your passion for you craft is undeniable in so many ways.. your wisdom in many things, your honesty, professionalism, genuine love and kindness to everyone around you , your hugs and laughter i will miss the most.. thank you for allowing me to know you personally.. you and Direk Lore and Ate Jo will forever have a special place in my heart.. you added more color and texture in my career… maraming maraming salamat sa lahat direk Peque Gallaga… #rip."
Citing a statement from Gallaga's manager June Rufino, STAR's Ricky Lo reported that the veteran filmmaker was brought last April 30 to the hospital in Bacolod, where he has been living in semi-retirement, due to water in his lungs.
On Tuesday, his family released a statement to inform the public that he was in the hospital "due to complications arising from past health conditions."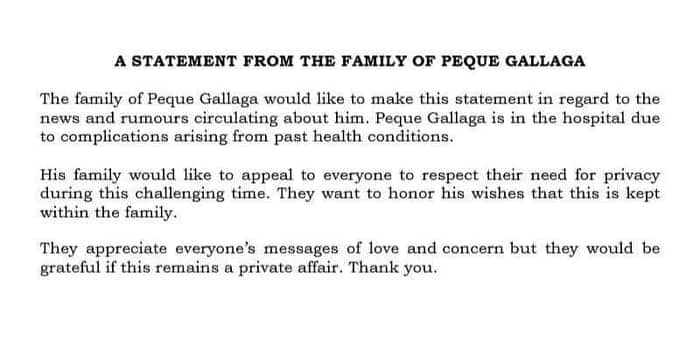 They also asked for privacy as they granted Gallaga's wish that details of his hospitalization were kept private.
"His family would like to appeal to everyone to respect their need for privacy during this challenging time. They want to honor his wishes that this is kept within the family," their statement said.
Gallaga's most significant work, Oro, Plata, Mata was written in 1982. The script took inspiration from his provincial background – but nobody wanted it, he recalled in a Philippine Star interview. "Nobody was buying it and Marilou Diaz Abaya told me to submit old scripts I wasn't able to sell to this contest on experimental cinema. And I won! They asked me who I wanted to direct the script, and I said I would. And from there my career took off."
Oro, Plata, Mata became one of the country's finest cinematic experiences, which narrates the changing fortunes of a wealthy provincial family as they deal with the terrors of World War II.
Before starting his filmmaking career as an indie in the 70's, Gallaga was a copywriter for a big league advertising company, and eventually as an instructor on drama at De La Salle University in the late 60's. Without any formal background in the drama industry, except for a few acting stints in student stage plays, he claimed he taught himself to teach theater. (READ: Peque Gallaga, the director as mentor)
Gallaga would go on to make more than 40 films despite experiencing health issues later on.
"He underwent a quadruple bypass almost 20 years ago but it didn't stop him from directing more films," Lo wrote.
His last film was the remake of Tiyanak starring Judy Ann Santos in 2014.
Gallaga has an unreleased movie titled Magikland, which was inspired by the theme park put up by Congressman Albee Benitez at a suburb in Bacolod.
He gifted Philippine cinema with such masterpieces as Scorpio Nights, Virgin Forest and Magic Temple.
Gallaga is survived by wife Maddie and their five children Bing, Jubal, Mitch, Wanggo and Datu.