Just days after Luis Manzano and Jessy Mendiola announced that they are finally engaged, a local jeweler cried foul for allegedly not being credited as the creators of the stunning engagement ring.
On Sunday, Radiant Fine Jewelry took to Instagram to say that they are the original creators of the actress-TV host's ring.
"It is unfortunate that a company would insinuate a work for something that they did not do. We feel the need to inform the public that this is our work," they wrote.
"In our opinion taking credit for something they did not do is detrimental to the industry that have ring makers who put their heart and soul to their pieces," they added.
The post came with video clip showing Luis appreciating their work.
But Luis countered their statement, stating Radiant Fine Jewelry was only responsible for procuring the stone and that it was Jessy and Manila Diamond's Studios' design for the ring.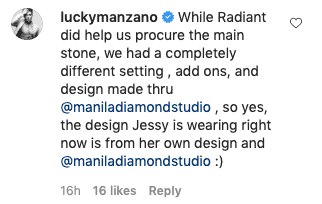 "So, the final design on Jessy's finger was from her own design and @maniladiamondstudio, not the one made by Radiant," the TV host said.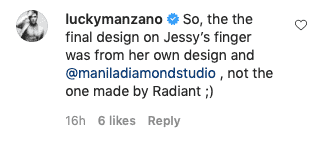 In one of Jessy's posts announcing their engagement, she credited Manila Diamond Studios for her engagement ring.
Luis, 39, and Jessy, 28, went public with their engagement on December 12 with a series of photos taken in the island-paradise of Amanpulo, Palawan.