Maine Mendoza broke her silence on the issue of her boyfriend Arjo Atayde's alleged health protocol breach in Baguio City.
On Twitter, she responded to a netizen who claimed she was tolerating how her boyfriend endangered the lives of many people.
The actress clarified that she's not "tolerating" Arjo and that there are a lot of information on the issue that is unknown to the public.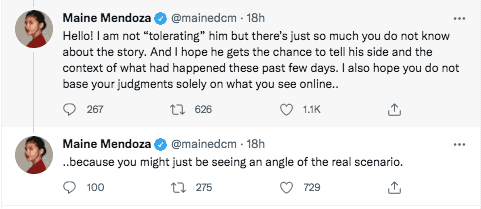 "And I hope he gets the chance to tell his side and the context of what had happened these past few days," she wrote.
Maine also advised the netizen not to base their judgments on what they see online.
"I also hope you do not base your judgments solely on what you see online.. Because you might just be seeing an angle of the real scenario," she added.
On Wednesday, Baguio city Mayor Benjamin Magalong ordered the probe of Arjo's team, explaining that they have breached health and safety protocols while shooting for his film.
While their crew composed of a hundred people were allowed to shoot in the city, the mayor said they did not maintain a "bubble".
"However, we found out that there were instances where crew members go home and come back to the city without passing through our triage so they are not tested," he said.
In a statement, Arjo's production outfit Feelmaking Productions, Inc. confirmed that the actor and nine others in their team tested positive for COVID-19 while shooting.
The statement also said it was the mutual decision of the production company and Arjo's parents to rush Arjo to a Manila hospital after experiencing such symptoms as difficulty in breathing, headaches and high fever. They said he also has a pre-existing medical condition.
They apologized for "whatever inconvenience that this unfortunate incident may have caused" and vowed to "comply with our commitments to the city."