A three-year-old boy in Catigbian, Bohol shocked his relatives after they ended up paying for dream toys he ordered online that amounted to more than P4,000.
According to his uncle Marloue Napiñas Mahumot, his nephew Nathan Pana ordered on Shopee a rechargeable toy motorcycle and toy backhoe with pedal using his grand mother's cellphone.
"Dugay ra jud niya na pangandoy makapalit ug sakay-sakay, police car nga sakay-sakay, kaso di mi ka-afford…hehe! (He has long dreamt of riding toy cars, a toy police car, but we couldn't afford to buy one… hehe!)," Marloue said in Bol-anon in an interview with STAR's Latestchika.com.
The family discovered there were orders made on December 8 after they received a Ninjavan text notification on December 19, the day before the first parcel was to arrive.
The notification was initially dismissed as a mistake or a late message since they didn't order anything from the online shopping site. They have been ordering on Shopee but just not recently.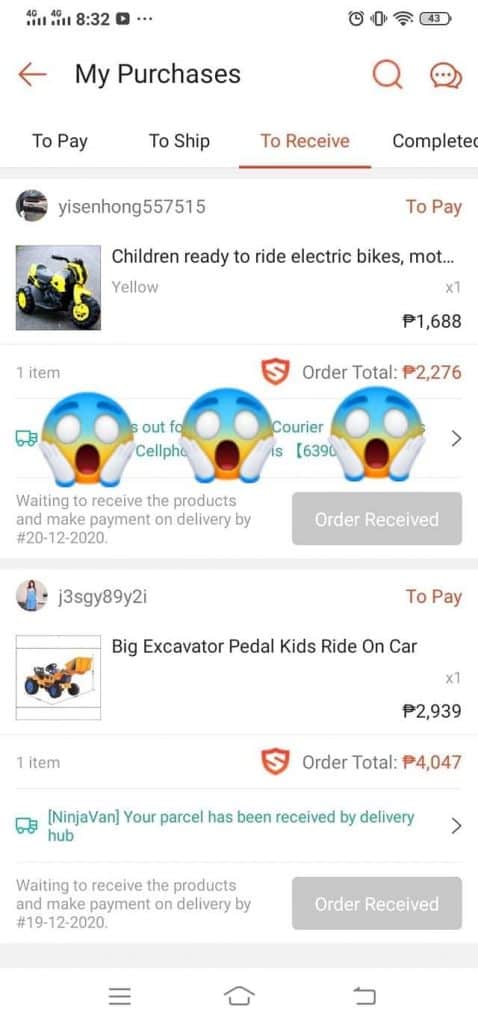 Marloue said that the family even had an argument trying to find out who among them ordered online.
They eventually discovered that Nathan had tinkered with his lola's phone and were finally convinced that he was the "culprit" because he could still remember the toys' colors.
"Tig order na mi sa Shopee … tigtan-aw man na sya sa iya mama kung mag order iya mama. Wa lang gyud mi mag expect kamao diay pud sya. Kinsa man pud tawn ang mag expect na tinood na ni order siya at his age na three years old? (We do order on Shopee, and he would watch his mother order. But we never just expected that he would actually know how to order. Who would even expect that he ordered for real at his age of three years old?)," he said.
They also suspected that the boy must have been led to the app through a pop-up ad while watching something online.
By December 20, the first of the orders arrived, while the last one on Christmas Eve.
Marloue said his mother and sister "felt drained" after realizing what Nathan had just done.
They attempted to decline the orders but were persuaded not to by the delivery rider.
"Nihangyo man sad ang nag-deliver nga di unta namo i-cancel kay di daw lalim mag-deliver adto kay dako baya gyud to unya mao ra iya gi-deliver mao naluoy nalang sad mi. (The delivery guy requested for us not to cancel because he said it was no joke bringing the big delivery box and it was his only delivery in the area so we also felt pity for him)," he said.
Marloue luckily had some cash on hand when the first order arrived. The boy's other relatives and one "generous neighbor" also pooled in money for the payments.
He said the family tried to reprimand Nathan afterwards, but being the only kid in the household who is a "very sweet boy who loves to give hugs," they didn't really have the heart to scold him over what he did.
Nevertheless, the young boy has since been banned from touching any cellphone after the incident.
Marloue also believes his nephew learned his lesson after seeing the shocked and stressed-out look on his mother's face.
More importantly, he hoped that their experience would serve as a lesson for adults to be always mindful when there are children around and to lock their cellphones' screens because kids nowadays already know how to operate these devices.
Marloue first posted about the family's Christmas surprise on Facebook, calling the experience as the "cutest nightmare."
"So ayun na nga, isa na namang pamilya ang nabiktima ng isa bata," he joked.
"As expected, masaya ang batang budol… Hinaot (hopefully) merry imong Christmas, Nathan!
Isang napakalaking SALAMAT SHOPEE.
"
The post has since gone viral with over 20K reactions, as of writing.
RELATED: Dad shocked after young son borrows phone to order food online