ABS-CBN news channels — ABS-CBN News and ANC 24/7 — have been restored on YouTube after their sudden termination early today, which later on was attributed to a "hacking incident".
In a statement explaining the temporary suspension of their YouTube channels, the media giant said: "After working closely with YouTube, the ABS-CBN News and ANC 24/7 channels have been restored at 3:58 p.m. today."
"The two news channels were temporarily suspended beginning 6:30 a.m. this morning after a hacking incident. The investigation on the incident continues as we also implement measures to prevent this from happening again," the statement added.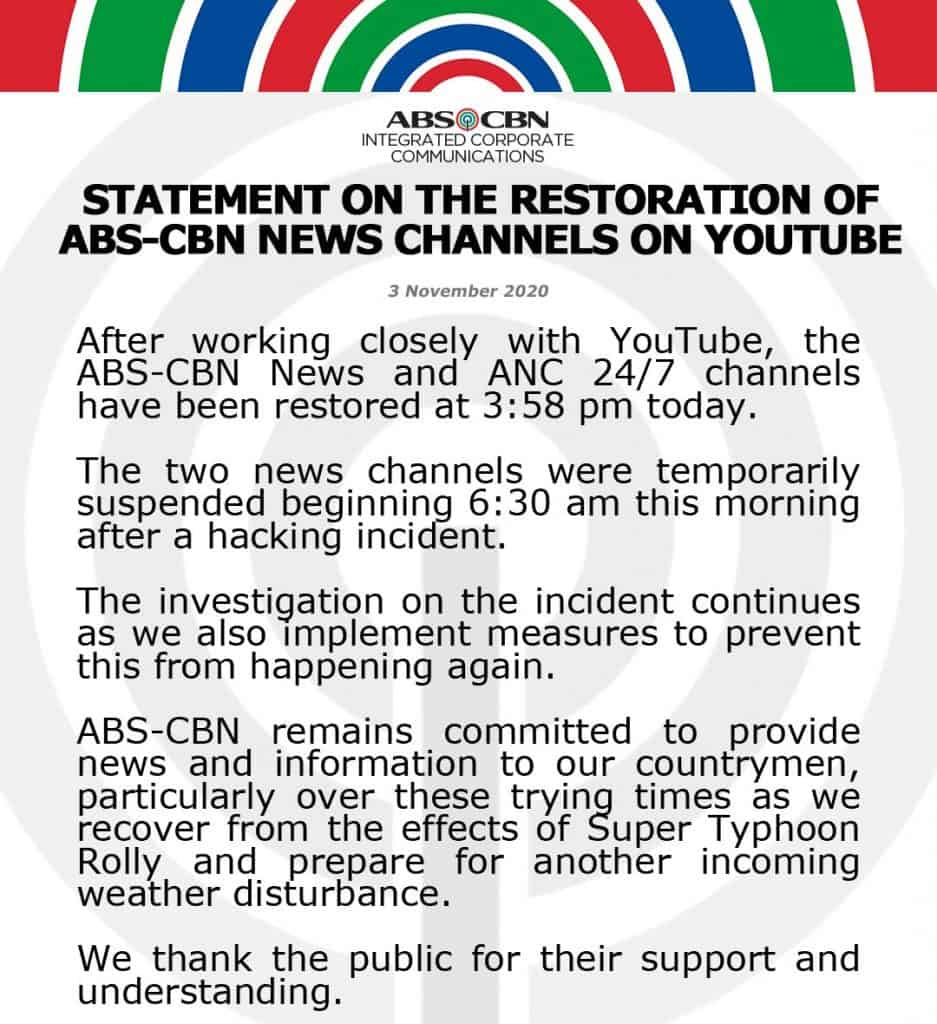 The network earlier released a statement after their YouTube channels and videos were suddenly inaccessible to the public.
They assured that they were already investigating the matter with popular video-sharing platform to resolve the problem.
"We are aware of the problem of accessing ABS-CBN News channels on YouTube. We are currently investigating this and working closely with YouTube to resolve the problem. In the meantime, you can watch our livestreams and news reports on the Teleradyo Channel. Thank you for your patience and understanding," they wrote.
Earlier, videos embedded in news articles were unavailable. The error message on the videos said that the YouTube account associated with the video was terminated.
Their profile showed an error message that stated the account was terminated for a violation of YouTube's Terms of Service.
READ: ABS-CBN 'investigating' news channels' termination on Youtube
As of writing, ABS-CBN News and ANC YouTube channels are up and running once again.
Just two months ago, the ABS-CBN news channel hit 10 million subscribers on the platform. ABS-CBN made most of their content such as news reports online after their bid for a franchise renewal was rejected by congress.