Broadcast journalist Ted Failon and ABS-CBN, his home network for 30 years, are going on separate ways. The veteran news anchor is set to officially say goodbye to Kapamilya viewers via his programs TV Patrol and Failon Ngayon sa Teleradyo on Monday, August 31.
This was announced in a statement by ABS-CBN on Sunday, as the network wished him well on his journey.
The network also said that his decision to leave the network was due to Congress' non-renewal of its franchise for broadcast operations.
Here's the full statement:
"Multi-awarded broadcast journalist Ted Failon is leaving ABS-CBN after 30 years.
"He will make his final appearance on TV Patrol and Failon Ngayon sa TeleRadyo on August 31.
"The closure of ABS-CBN's radio broadcast operations led to his painful decision and we respect it. We admire Ted's talent, passion, and commitment to radio as his most effective medium in serving the Filipino people.
"We thank Ted for his many years of dedication and service as a Kapamilya broadcast journalist. He will always be a Kapamilya. We wish him well on his journey."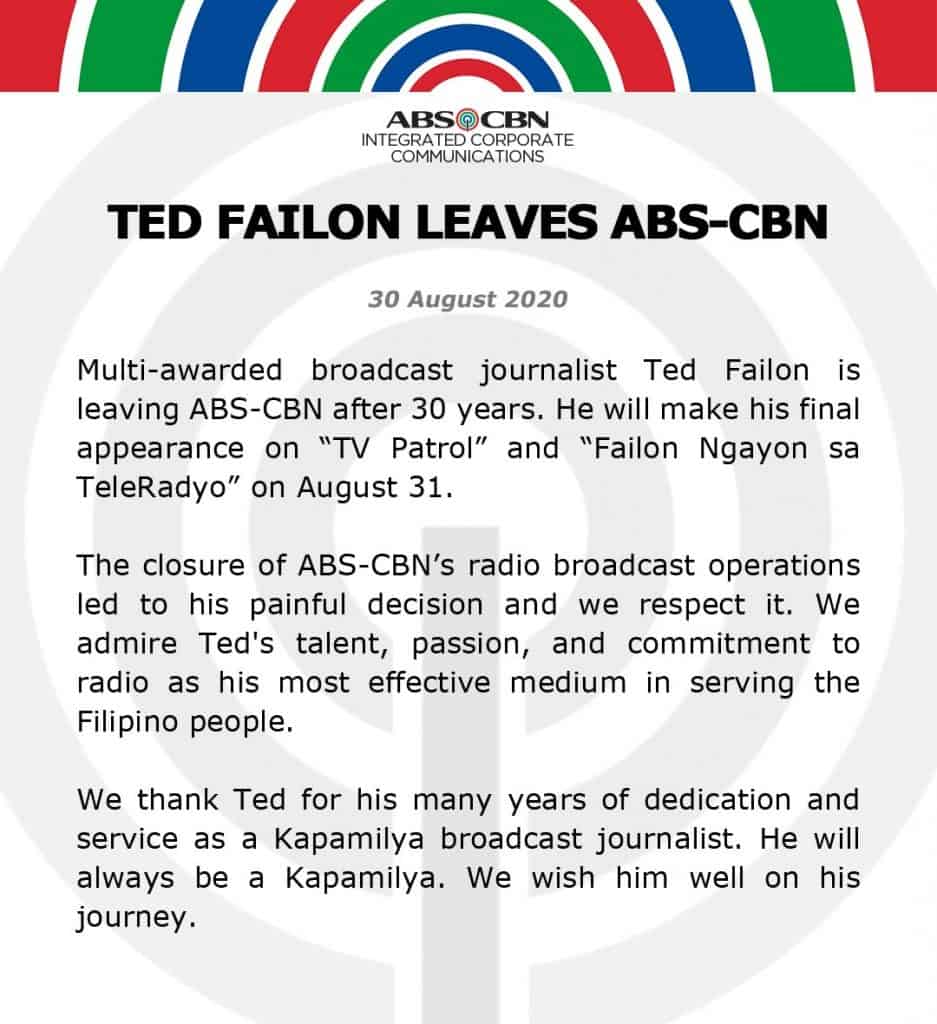 Speculations have earlier emerged that Failon was changing networks amid news of ABS-CBN's retrenchment program that also affected subsidiaries "effective end of business day on Aug. 31, 2020."
According to a Philstar.com report, Failon is moving to Radyo5, TV5's radio station.
Apart from Failon, DZMM's Dos Por Dos anchors Anthony Taberna and Gerry Baja ended their show on ABS-CBN radio arm after 17 years on air. They recently confirmed moving to their new home, DZRH.
RELATED: