TV host Dianne Medina defended husband Rodjun Cruz from a netizen's comment alleging that she is the only one working hard while he's just busy doing TikTok videos everyday. 
Dianne recently uploaded a photo of her holding her baby bump in her workspace and teased about her upcoming show on Instagram.
The photo, however, drew a comment that said: "I noticed you're the only one who keep working and your hubby just doing TikTok everyday."
Dianne then came to the defense of the actor whom she said is "working really hard for me and baby Joaquin."
"Hindi lang siya masyadong ma post hehe," added Dianne.

She went on to say that Rodjun is making money on social media and from his endorsements.
"May bayad TikTok nya and IG posts and he has a lot of endorsements. Humble lang kasi asawa ko. ??,," wrote Dianne.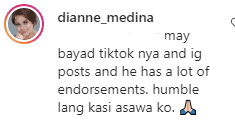 Rodjun, who has a million following on TikTok, entertains his followers with dance challenges and covers on the popular video-sharing app.
The couple married in December 2019 and revealed that they are expecting their first child last April. 
RELATED: