Normita Magnayon-Gray, mother of former Miss Universe Catriona Gray, has issued a warning against a certain Instagram account for posting allegations against her daughter amid Clint Bondad's cryptic Instagram stories.
An Instagram account with the handle @kimeeyuuuy has been sharing speculations or "theories" on why Clint, Catriona's ex-boyfriend, has been acting "strange" on social media.
Some of the posts included allegations surrounding Catriona's relationship with current beau Sam Milby, which drew attention from netizens.
In an Instagram post on Friday, @kimeeyuuy shared a screenshot of a direct message it received from Catriona's mom that read: "You continue to defame my daughter and you do so at your own peril."
To which the account replied in the caption: "Sorry po, Mum. Wala naman po kaming ginagawang masama. Shineshare lang po namin ang mga ganap na kagagawan din ng unica hija mo."
Over the week, Clint's dark Instagram stories — some of which seemingly made references to Catriona and Sam — have taken over the internet with netizens trying to "decode" what he really wants to convey.
Others have also expressed concern for the Fil-German model and actor's wellbeing.
Catriona, on the other hand has been mum on the issue, but posted via an Instagram story on Friday a Christian song with the lyrics: "The weapon may be formed but it won't prosper. When the darkness falls it won't prevail. 'Cause the God I serve knows only how to triumph. My God will never fail."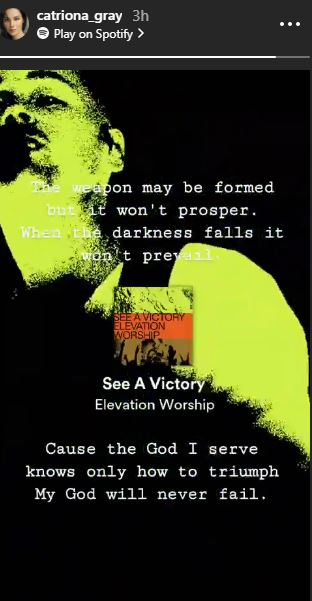 RELATED: