Fans of Bea Alonzo and John Lloyd Cruz were treated to yet another kilig online exchange Tuesday night, as the actor left comments on his former love team partner's latest Instagram post.
To recall, Bea and John Lloyd sent fans into a frenzy last week after the actor, who's on an indefinite leave from showbiz, (belatedly) reacted to Bea's old posts dating as far back as 2013.
On Tuesday night, the brand-new banter began with Bea's post that said: "I remember a line I read from Marie Curie: 'Nothing in life is to be feared, it is only to be understood. Now is the time to understand more, so that we may fear less.' NOW more than ever."
John Lloyd, who uses the Instagram handle @dumpsitegallery, was among the first to react on the post: "Marami rin ako naalala @beaalonzo."
Bea teased her former onscreen partner with the reply: "@dumpsitegallery mukha nga ? magandang alaala naman?"
This then led to a back and forth that made the fans kilig.
John Lloyd: "@beaalonzo karamihan oo, napangiti ako. 🙂 Pero meron ding hindi, napaisip ako."
Bea: "@dumpsitegallery Napadpad ka sa bagong post ko ah. Pagod ka na kakahalungkat ng past photos? ?."
John Lloyd: "@beaalonzo oo pagod na."
Bea: "beaalonzo@dumpsitegallery saan?"
John Lloyd: "@beaalonzo sa maraming bagay."
Bea: "@dumpsitegallery luuhhhh.. drama."
John Lloyd: "@beaalonzo sana nga drama lang to."
This prompted Bea to call John Lloyd by his real name, Idan.
Bea asked, "Okay ka lang Idan?" to which John Lloyd replied, "@beaalonzo pwede tumawag?"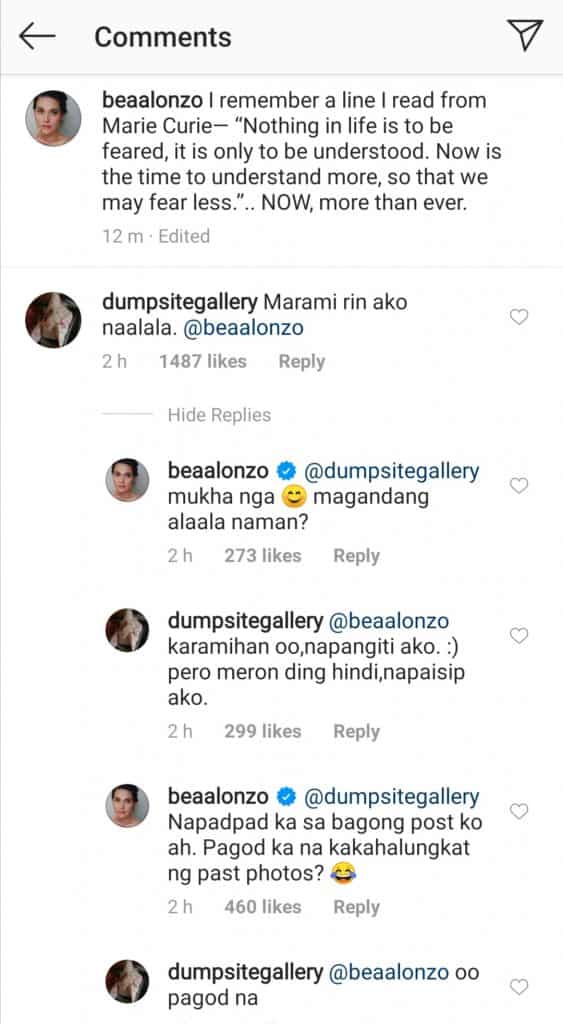 The exchange ended there, but it was enough to send fans wild with the thought that John Lloyd might have indeed given Bea a call.
This has all the feels of an earlier social-media exchange that also started with John Lloyd leaving a comment on Bea's old photos, including one that featured a full moon.
John Lloyd commented, "Hirap yakapin ng sarili pag bilog ang buwan pero don ata niya pinakakailangan maramdaman sariling pagkalinga at pag-unawa. Wala lang. Wala naman. Di ko alam na nakukuha din pala ng buwan ang atensyon mo."
Bea responded, "Always. Pero mas masarap siguro kung may katabi."
Still, if this is part of a virtual reunion they promised in earlier posts, there's no telling yet.
Earlier, in separate posts, the former love team partners said they're set to perform a work of fiction on Instagram.
"It is a love story and it is about these times," they said.
"Any resemblance to persons, living or dead, is intentional," their posts added.
The fans won't certainly mind more of this kilig exchange during these quarantine times.