Solenn Heussaff addressed the curious people who keep asking why she hasn't posted a photo showing her baby's face yet.
The actress gave birth to baby girl Thylane Katana last January 1 but ever since she and husband Nico Bolzico have been very careful not to reveal their firstborn daughter's face to the public.
Nine days after Solenn gave birth, she shared a photo of her breastfeeding Thylane who seemed to be "hiding".
Nico also shared a photo of him taking care of his daughter — his first photo with her — but her face still not shown to the camera.
And they posted some other moments with their baby girl as a glimpse of their parenthood.
Last February 8, Nico shared a made a hilarious "reveal" of Thylane.
To feed the minds of the curious, Solenn has spoken up on why they have yet to share and reveal Thylane's face via an Instagram story on Thursday.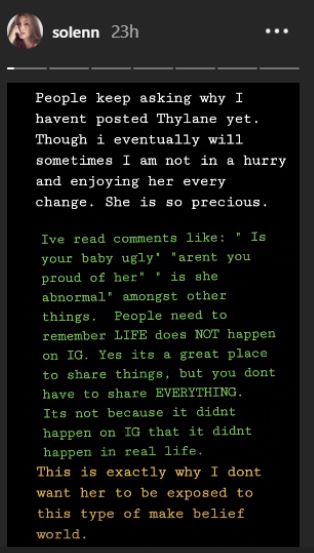 "People keep asking why I haven't posted Thylane yet. Though I eventually will sometimes, I am not in a hurry and enjoying her every change. She is so precious," she said.
The actress also shared that she has read "off" comments like "is your baby ugly," "are you not proud of her," "is she abnormal amongst other things."
She also reminded: "LIFE does not happen on IG. Yes (it's) a great place to share things, but you don't have to share EVERYTHING."
"It's not because it didn't happen on IG that it didn't happen in real life. This is exactly why I don't want her to be exposed to this kind of (make-believe) world," she added.
She ended: "Some people need to get wiser."