It looks like James Reid and Nadine Lustre are assuring fans and netizens that Issa Pressman has nothing to do with their breakup.
Following Yassi Pressman's statement defending her younger sister Issa over allegations that she is the third party of JaDine, Nadine and James expressed their love and support for the Pressman sisters.
Nadine left a short but sweet message for the Pressman siblings. "Love (you) both," she said tagging both Yassi and Issa's Instagram accounts. 
James, on the other hand, left a three heart emojis in his first comment to Yassi's Instagram post.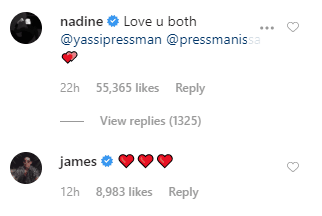 In another comment, James apologized to the sisters for getting caught up in his split with ex-girlfriend Nadine.
"Sorry, you girls got dragged into this. There are some messed up people out there," James said.

Issa had earlier been tagged by JaDine fans and netizens for causing the separation of the former "Team Real" couple.
Her older sister Yassi on Wednesday had to come to her sister's rescue, saying things were getting out of hand online.
"Ayaw na po sana namin patulan, but we decided to post something because cyber-bullying is not okay, it is never okay," Yassi included in lenghthy post on Instagram. 
Both Issa and Yassi belong to the same circle of friends with James and Nadine.