Singer-actress Yeng Constantino has evaded arrest by posting bail for cyberlibel charges.
The bail was set at P30,000.
This was confirmed by her lawyer, Atty. Joji Alonso, in a statement sent to the press today.
"Our client, Ms. Yeng Constantino-Asuncion, has posted bail and an Order approving the same has just been signed. We reiterate that our client has yet to receive a copy of the complaint filed before the Provincial Prosector's Office of Surigao del Norte, for the alleged violation of Sec 4 (c) (4) of RA 10175 in relation to Article 355 of the Revised Penal Code or 'cyber libel'," Atty. Alonso said.
A warrant of arrest was issued by the Regional Trial Court of Dapa, Surigao Del Norte to Yeng — whose real name is Josephine Eusebio Constantino-Asuncion — for violation of Sec 4 (c)(4) of Republic Act 10175 or the Cybercrime Prevention Act. This stemmed from a cyberlibel complaint filed against Yeng last year by Dr. Esterlina Tan whom the singer-actress accused of having a lack of concern and sense of urgency in attending to her husband's emergency situation during a vacation in Siargao. Dr. Tan was identified in reports as the OIC chief of hospital of the Siargao District Hospital.
Facebook user Dowk Amber, who appears to be a close friend of Dr. Tan, posted a photo of him with the doctor who personally gave him a copy of the order.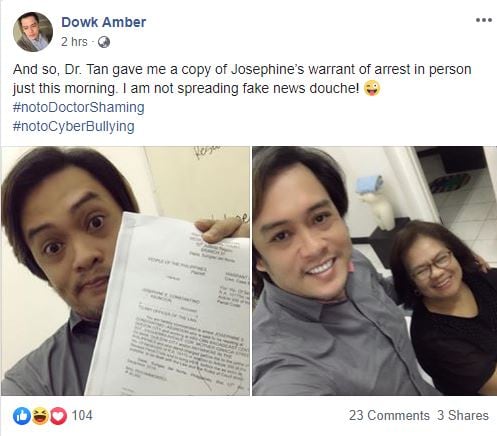 In another Facebook post, he called on fellow doctors to "make some noise" saying that "no action is done up to now" given that the warrant was issued last December 12, 2019.
"Well here it is, but it seems no action is done up to now. She even appeared on tv interviewed by Boy Abunda, a lame desperate move. And the bail… P30k?! Come on! Let's make some noise doctors," he said.
A copy of the arrest order was also shared by Surigao del Norte first district Rep. Francisco Jose "Bingo" Matugas on his Facebook page.
The warrant of arrest read:
"Upon a judicious examination and perusal of information, the records of preliminary investigation, including the affidavits and written statements, and other attachments to the information, the court finds probable cause to issue warrant of arrest.
"Let the Warrant of Arrest be issued to the apprehension of the above-name accused who is said to be residing at Quezon City and working at ABS-CBN Broadcast Center, Sgt. Esguerra Avenue cor. Mother Ignacia Street, Diliman, Quezon City.
"The bail bond posted is hereby fixed at P30,000.00."
Yeng's lawyer, nevertheless, said that they only learned about the case yesterday, January 9, adding that her client has yet to receive a copy of the complaint.
Alonso also said that Yeng's camp will be addressing the charges in the coming days.
Back in July 2019, Yeng received widespread criticism for uploading a vlog of her and her husband's "traumatic experience" in a Siargao hospital after the latter figured in a cliff diving accident. She also expressed her frustration over the hospital's alleged poor service on her social media accounts.
Netizens slammed her for "doctor-shaming" the medical personnel who attended to her husband's condition.
Dr. Tan also drew the support of the Philippine Medical Association.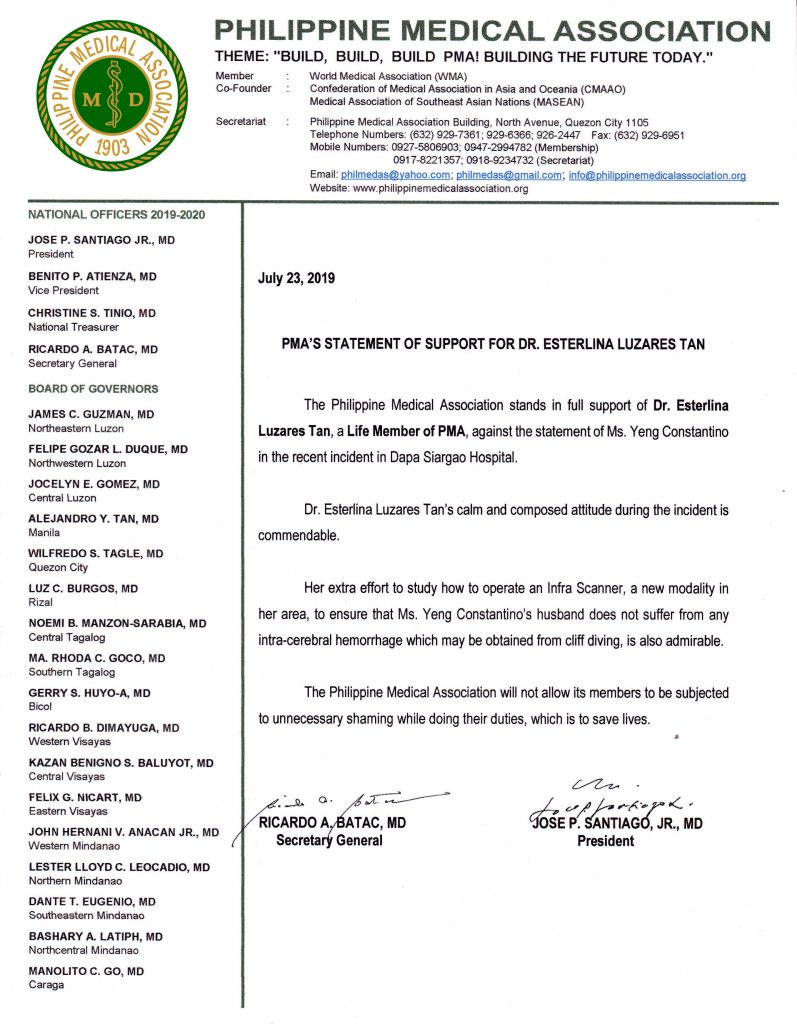 Following the backlash she received, the Kapamilya singer issued a public apology to the doctor, medical staff and professionals, and netizens affected by her vlog.
She also took down the vlog and posts.
In a recent TWBA interview, Yeng looked back on the incident and called it as the "lowest point" of her showbiz career.