Now that former Miss Universe Pia Wurtzbach is confirmed to be single and ready to mingle again, rumors linking her to Super Junior's Choi Siwon have once more resurfaced.
On Thursday, Pia was reported to have broken up with racecar driver-model Marlon Stockinger.
To recall, the 30-year-old beauty queen has been a longtime ELF, a.k.a. name of the Kpop boy group's fandom, and a huge Siwon fan, who as per old tweets unearthed by her fans, once jokingly called herself as "Mrs. Siwon Choi."
When Pia won Miss Universe in 2015, she was congratulated via an Instagram post by the 33-year-old Korean singer-actor, who extended a personal invitation to her to watch a concert of his.
They were able to meet for the first time when Super Junior had a show here June of last year.
A video showing Siwon handing out bottled water to Pia from the concert stage even went viral.
Pia also had a special backstage pass and scored a solo photo with the Korean heartthrob.
When Pia and Marlon unfollowed each other on Instagram a few days later, there were speculations then that Siwon-Pia's first meeting had something to do with it.
Early this year, during a visit to the Madame Tussauds wax museum in Hong Kong prior to getting her own wax figure at the tourist attraction, Pia "fangirled" over a wax figure of Siwon and posted a photo of it.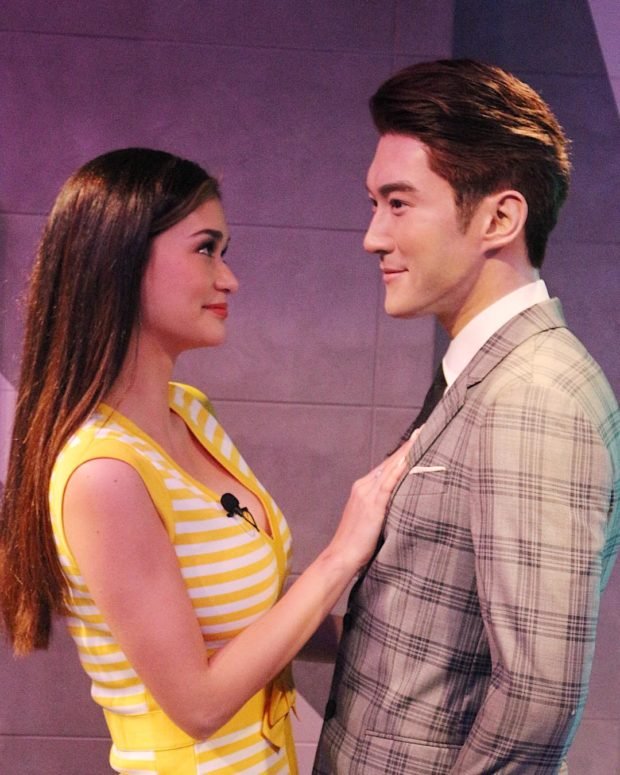 And the most liked comment came from who else but Siwon. Eagle-eyed fans also noticed that the Korean star would like some of Pia's Instagram posts.
While everyone knew the Fil-Swiss racer was her boyfriend, this didn't stop some fans from shipping the two if only to have someone lived out their Kpop or Kdrama fantasies.
At the launch of her wax figure last March — she's the first and only Filipino to have one at the Madame Tussauds in Hong Kong — we asked Pia about this history of interaction in an exclusive chat.
"Naging parang kaibigan na rin naman kami. He started talking to me after I've won (Miss Universe) because that's when he found out na I was a big fan, and then I met him last year (2018) when they had a concert here," Pia had said then.
"That was the first time I met him but then we've been speaking already. Ayun. I'm glad that he's my friend now," she added.
Pia had hoped to work with him someday. "You know what, if that happens, I will definitely! Sana it can happen. I won't say no to that."
Nevertheless, sources close to the couple admitted that there was a time during a break in Pia and Marlon's on-and-off, nearly three-year relationship early this year — which Philippine Star's Ricky Lo first broke but was later on addressed by Pia and Marlon via sweet photos together in Dubai — when Pia and Siwon had regular communication with each other.
But it supposedly never progressed to something more because "may language barrier at OA ang sked nilang dalawa," sources, who chose to stay anonymous, said.
Communication is still there though. Sources said, "Nag 'Hi' kahapon si kuya" but no "flirting".
But yes, Pia is starting to entertain suitors again, the sources further said. "May suitors na, one masugid and matindi ang credentials. (He's a) foreigner."
And no, she's not getting back anymore with Marlon, who is also not making any move to woo her back. "Hindi talaga!!!!!! Totoo na! And walang pursue (by Marlon)."
As of writing, Pia and Marlon have yet to directly comment on the breakup reports.