Is Estrella "Inday" Barretto, mother of siblings Gretchen, Marjorie and Claudine, not taking sides in the ongoing family feud?
That seems to be the burning question as the family matriarch has kept her silence as of press time, but was seen in separate family photos with her clashing daughters.
Last week, the Barrettos — one of Philippine showbiz's most prominent families — raised a storm of controversy following reports on two incidents of heated confrontation at the wake of the family patriarch Miguel Barretto.
The elder Barretto passed away on October 15 at the age of 82.
The first incident transpired on October 16, reportedly involving Gretchen and Marjorie, plus other family members. It was witnessed by no less than President Duterte, who was also at the Heritage Memorial Park in Taguig to pay his last respects.
The following night, October 17, another confrontation allegedly erupted and this time between Majorie and Claudine.
The fight has since spilled over to social media, with Marjorie, Claudine, Gretchen and even Marjorie's daughter Julia Barretto defending themselves and throwing accusations at each other on their Instagram accounts. Majorie and Gretchen promised to unleash more "truth and nothing but the truth" in their posts.
Nevertheless, after the cremation of the remains of Inday's husband Miguel last Saturday, the Barretto children and grandchildren also took to Instagram to post photos, videos and IG stories honoring the memory of the family patriarch.
Claudine posted a separate photo of her, Gretchen and brother JJ with their mom Inday and captioned: "Family. We miss u Daddy."
She also posted a video showing Gretchen walking along with her mom, with their arms around each other.
It is public knowledge that Gretchen had long been estranged from her family, before she was seen in Claudine's Instagram video hugging mom Inday upon visiting the wake of her father.
Showbiz pundits traced it to the time mom Inday wrote a scathing open letter rebuking Gretchen and defending Claudine, via Star entertainment editor Ricky Lo's Funfare column, titled "Mommy Inday to Gretchen: You're a liar!" on April 24, 2013.
At that time, it was Gretchen and Marjorie on the same side of the fence.
This year, Claudine and Gretchen patched things up and settled their differences.
Gretchen's reconciliation with mom Inday, on other hand, was the wish of their deceased father.
Claudine said in her October 19 Instagram video post: "My Mom and my Ate stronger together. Dad for sure is so happy. @gretchenbarretto had a great lunch while waiting for Dad's ashes. I love you guys."
Some netizens interpreted Claudine's posts that the family matriarch has not only ultimately reconciled with her daughter, but was also taking the side of Gretchen and Claudine.
A netizen with the IG handle @cheesycheesewoof said, "Ito ang 'TRUTH AND NOTHING BUT THE TRUTH' — ang ina nasa panig nina Gretchen at Claudine. Tapos na ang boxing!"
However, their brother JJ also posted a separate photo showing the rest of the Barretto family, Marjorie and her kids included, with mommy Inday at the center.
JJ happens to be the father of Nicole Barretto, who was also allegedly involved in a "hair-pulling" incident with Gretchen during the wake, an issue that has since dragged the name of businessman Atong Ang.
JJ simply captioned the photo: "Bye dad."
He also shut down negative comments on his post.
"Please refrain from bashing any of my relatives on my posts. I love them all. I pray for peace for our family. Stop the hate, please," he told a commenter.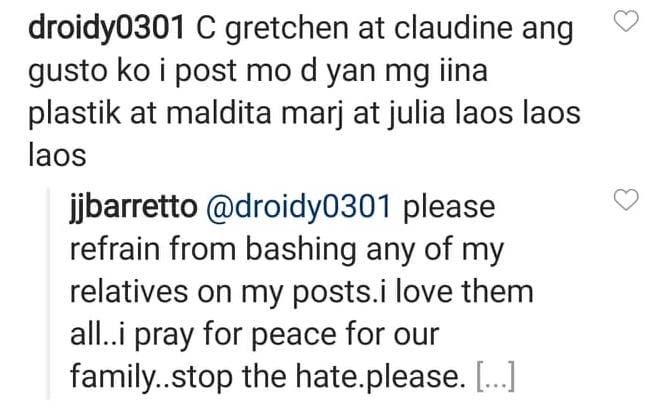 A netizen with the handle @gracecortez1 also commented, "He (JJ) is a peacemaker. Blessed are the peacemakers for they shall be called children of God," to which JJ responded with a black heart emoji.
He also liked a comment from @gem_0022 that said: "Sometimes things happen because there are lessons to be learned. Praying that everyone finds the love and forgiveness within themselves so they can extend it to others although forgiveness may take sometime because of the pains and hurts that need to be healed among members of the family.
"Still, nothing is impossible, just as long they keep the faith. Praying for emotional healing for the entire family and may other people learn to respect the family especially with the things going on in their lives. Spread peace and love."
Meanwhile, the public awaits with bated breath any word from mommy Inday on the latest and very public feud involving her family.