Just when we thought she's had it all — FAMAS, URIAN, Young Critics Circle, you name it! — here comes another feat for Nadine Lustre.
Nadine was just named Best Actress at the Regional Awards of the 2019 Asian Academy Creative Awards (AACA) for her role in Ulan, a film directed by Irene Villamor.
AACA is regarded as "Asia Pacific's most prestigious award for creative excellence."
The AACA recognition is Nadine's fourth Best Actress award for the year. She received the same honor for her acting performance in the 2018 film Never Not Love You at the Gawad Urian Awards, FAMAS and Young Critics Circle this year.
Carlo Aquino, her leading man in Ulan, also bagged the Best Actor award.
The movie also won several other awards from the Regional Category, including Best Cinematography, Best Direction, Best Feature, Best Original Screenplay and Best Sound.
The regional winners were announced last October 15 at the MIPCOM annual trade show in Cannes, France.
There's also a chance that Nadine might take home the coveted "Goddess of Creativity" trophy for qualifying as a final round nominee for the Grand Awards gala night happening in December.
"To win your regional competition is a huge honour. It means you have been judged the best in your category, from your region or territory! It also means you are a nominee at the final round for the Grand Awards/Gala Final in December, with a real chance of taking home the coveted Goddess of Creativity!" posted AACA on its Facebook account.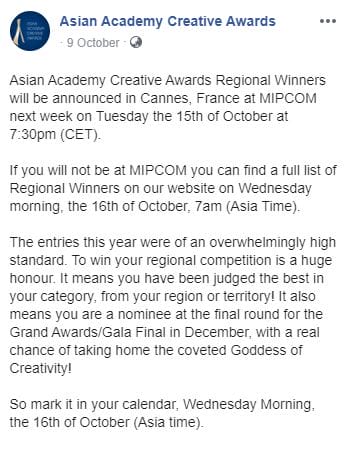 The regional winners for the 2019 Asian Academy Creatives Award will represent their respective countries and regions on December 5 at Singapore's historic venue, The Victoria Theater.
Prior to the AACA awards ceremony, Ulan will have its international premiere at the San Diego Film Festival in November.